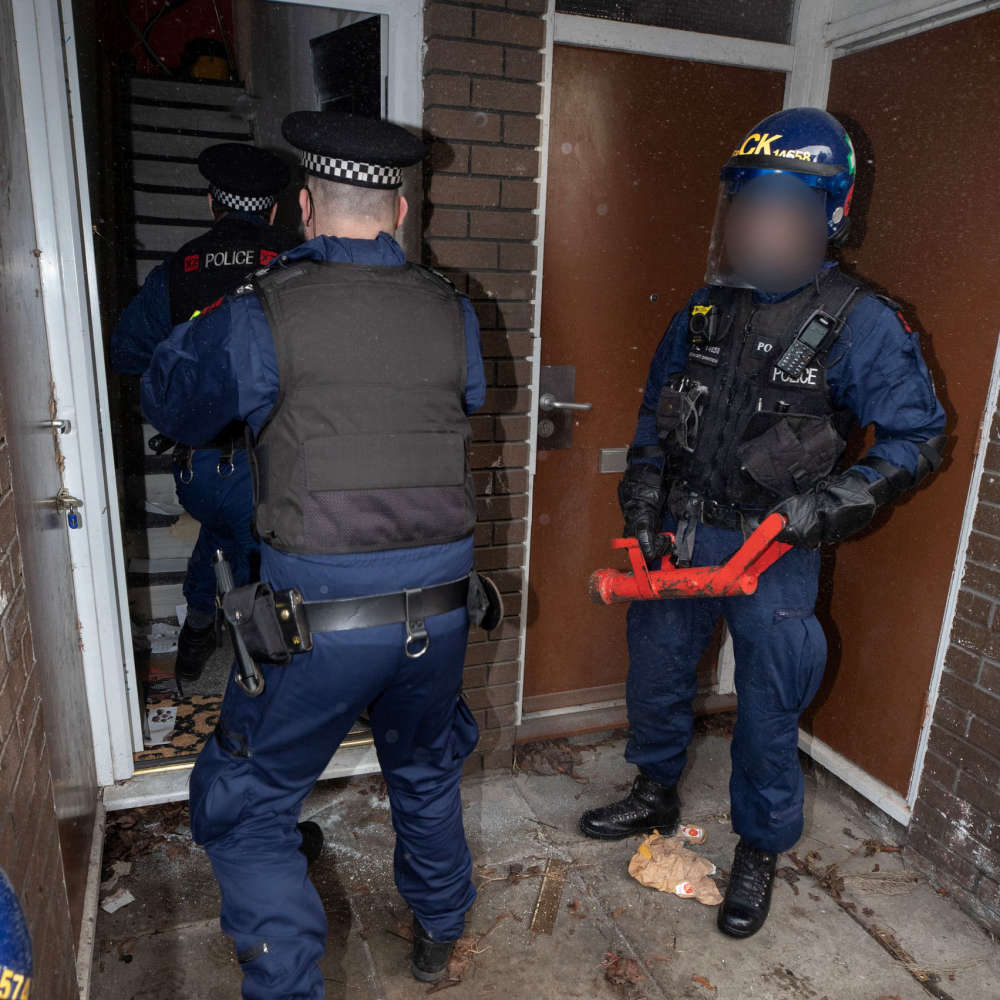 Police this morning (Tuesday 14 March 2023) executed warrants in Greater Manchester to make arrests for non-recent child sexual exploitation (CSE) offences.
Accompanied by the Tactical Aid Unit (TAU), the early morning raids were carried out on addresses in Manchester and Didsbury.
A 40-year-old woman from North Manchester and a man, 36, from Didsbury, were the latest to be arrested under GMP's Operation Green Jacket, which relates to CSE offences reportedly carried out in 2004. They both remain in custody for questioning.
The woman was arrested on suspicion of facilitating CSE and the man under suspicion of the rape of a female under the age 16.
The National Exploitation Fortnight of Action commenced yesterday, Monday 13 March 2023 and in the coming days work carried out by GMP to detect and prosecute those responsible for exploiting children - both criminally and sexually - will be intensified.
Detective Sergeant Paul Cawsey from the Force CSE Unit, led this morning's arrests. He said: "This has been a fantastic effort from all involved, which has resulted in a man and a woman being questioned on suspicion of offences committed nearly 20 years ago.
"We continue to work closely with our partners in the local authority, children's social services and victim services, to identify the perpetrators of these heinous crimes and help bring them to justice.
"If you, or anyone you know, has been a victim of CSE, then please don't hesitate to contact us on 101, via the Live Chat function on our website, www.gmp.police.uk or anonymously through the independent charity – Crimestoppers – on 0800 555 111.
"It doesn't matter how long ago the offences were committed - you have our assurance that you will be believed and all allegations will be thoroughly investigated.
"If something doesn't feel right – report it."
Could you spot a child who is at risk of CSE or CCE?
Spot the signs of child exploitation: changes in behaviour; not coming home when they say they will or going missing; changes in appearance; reluctant to talk about friends/relationships and becoming secretive; struggling to engage in school; overly protective of their messages/social media; having more than one phone; accompanied by individuals older than them; concerns surrounding the use of alcohol or drugs; sudden changes/fear of people/friends; unexplained gifts or money; sexual discussions/language which is not usual; evidence of sexual images being shared (by themselves or by others)
If you or someone you know has been raped or sexually assaulted, we encourage you not to suffer in silence and report it to the police, or a support agency so you can get the help and support available.
- Saint Mary's Sexual Assault Referral Centre, Manchester provides a comprehensive and co-ordinated response to men, women and children who live or have been sexually assaulted within Greater Manchester. They offer forensic medical examinations, practical and emotional support as well as a counselling service for all ages. Services are available on a 24-hour basis and can be accessed by calling 0161 276 6515.
- Greater Manchester Rape Crisis is a confidential information, support and counselling service run by women for women over 18 who have been raped or sexually abused at any time in their lives. Call on 0161 273 4500 or email help@manchesterrapecrisis.co.uk
- Survivors Manchester provides specialist trauma informed support to male victims in Greater Manchester who have experienced sexual abuse, rape or sexual exploitation. Call 0161 236 2182.