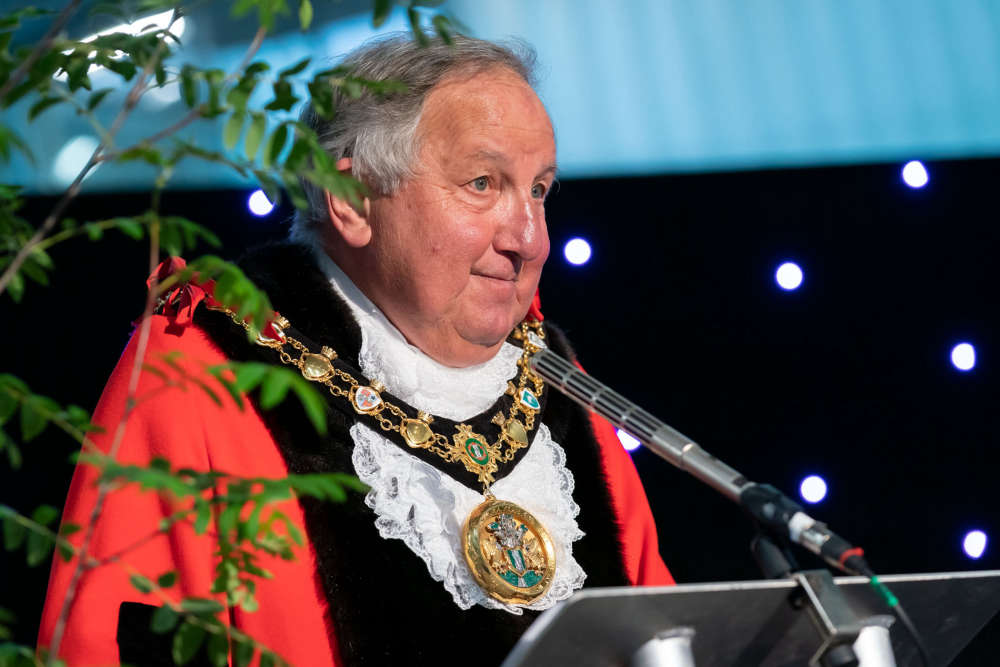 Credit: Rochdale Council
Rochdale welcomed its new mayor on Wednesday, as Councillor Mike Holly was sworn into office.
The appointment was made following the first full meeting of the council since the local elections earlier this month.
The evening was attended by former mayors, deputy lieutenants as well as other distinguished guests and community leaders as the departing mayor Councillor Ali Ahmed, mayoress Farjana Begum and consort Sultan Ali handed over their chains of office.
The event was held at Number One Riverside as the town hall remains closed for refurbishment and began with a rousing fanfare played by Rochdale Music Service.
Council leader Neil Emmott spoke to support the appointment of Mike who he has known personally for many years and said he will do the borough proud: "A devoted family man as well as a highly skilled councillor, I congratulate Mike and I know how committed he is to the borough, his adopted home."
After receiving his chain, the new mayor, who had his grandchildren amongst the packed audience of over 300 guests, said words of thanks. "This really is such an enormous honour and an incredibly proud moment for Margaret and me.
"We love the borough and will work hard to fulfil our duties and be champions for this great place. I'm so looking forward to meeting different communities to celebrate our rich diversity and all the things that make Rochdale special.
"We are also looking forward to supporting all our chosen charities and working hard to raise a significant amount of money through the Mayor's Charity."
Mike, originally from Swansea, moved to the borough in 1973. A chartered accountant, he was elected as a councillor for South Middleton in 2006 and has represented Norden since 2014.
Mayoress Margaret Holly, born and raised in Rochdale is a mother of three children and a proud grandma. The former teacher said she feels proud to be undertaking the role of mayoress and is looking forward to the year ahead.
During the event a past mayors medallion was presented to councillor Ali Ahmed. Councillor Ifitikhar Ahmed thanked councillor Ali Ahmed for his hard work, fundraising, dedication and energy over the past year as mayor.
Retiring mayor, Councillor Ali Ahmed made an emotional farewell speech and said what an honour it had been: "My work has taken me to all parts of the community, seeing at first-hand what makes our borough such an exciting and brilliant place to live, work and grow up in.
"It provided me with the opportunity to meet so many wonderful residents, charities, community groups, teachers, care home staff and organisations. Each and every one is playing their part to take our borough forward.
"A huge thanks to everyone who has supported me during the last 12 months, particularly my wife Syeda Farjana Begum, who has been such a wonderful mayoress, and to my consort Sultan Ali. I was grateful for their support, as it really has been non-stop and a real team effort."
Deputy mayor for the new year will be councillor Shakil Ahmed, deputy mayoress Robina Bi and deputy consort councillor Rachel Massey. They were presented with their chains during the ceremony.
Musical entertainment was produced by Rochdale Music Service and included solo performances by Isla Connell and Finley Widdrington, their fanfare team and a brass quintet.
The evening was closed by three beautiful songs by the Voice of Heywood Community Choir.
The Mayor's Charity Appeal for 2023/24 will be raising funds for Springhill Hospice, Jolly Josh, Parkinsons UK, NSPCC (Rochdale and district branch), Rochdale Shopmobility, Basa and other local charities.