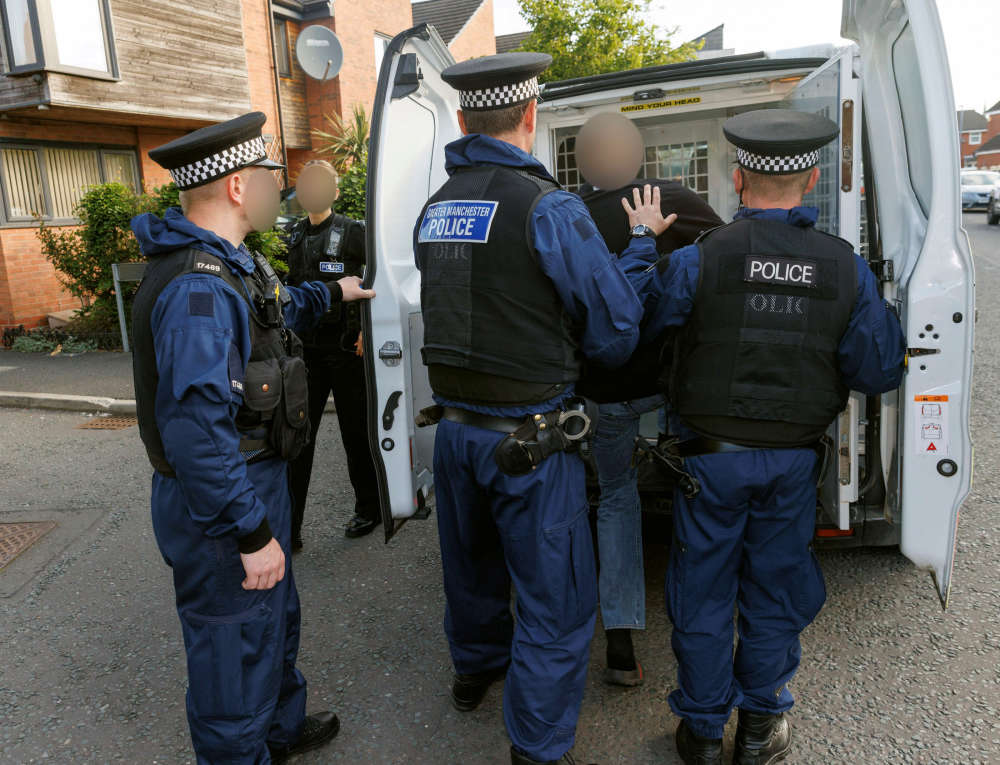 Credit: Greater Manchester Police
Four men have been arrested in connection with the sexual exploitation of vulnerable young girls in Bury between 2006 and 2009.
The arrests were made yesterday and today during a series of warrants at properties in the Elton, Moorside and Eastern areas of Bury.
The suspects are between the ages of 36 and 44. The 44-year-old man is a former police officer. They all remain in police custody for questioning.
Two men, aged 35 and 41, have previously been arrested in connection with this investigation and are currently on bail pending further investigations.
Bury District Commander, Chief Superintendent Chris Hill said: "I commend the bravery and strength of any victim in coming forward and supporting police enquiries. The passage of time does not affect our dedication to ensuring they are listened to, placed at the very heart of operations and supported by specialist services for as long as they need.
"The report which resulted in the launch of this investigation initiated a multi-agency response. Officers have completed extensive enquiries to identify and locate suspects - this work is ongoing. They are also working with partner agencies, including Bury Council, to ensure any necessary safeguarding action is taken.
"What follows these arrests is a lengthy investigation to ensure that all involved are identified and that evidence of criminality is referred to the Crown Prosecution Service. Our message is clear – if you believe that you are a victim of child sexual exploitation or have something else to tell us which relates to this investigation, please report it."
Detective Chief Inspector Dave Jones, of GMP's Professional Standards Branch, added: "It is, obviously, extremely concerning that one of the suspects is a former police officer, who was employed by GMP until 2011. The Professional Standards Branch is supporting the investigation team and ensuring the correct processes and procedures are followed."
The investigation team can be contacted via 0161 856 8633 or via the Live Chat function at gmp.police.uk, quoting Operation Factor. Anonymous reports can be made via the independent charity – Crimestoppers on 0800 555 111.
Spot the signs of child exploitation: Going missing for periods of time or regularly returning home late; skipping school or being disruptive in class; appearing with unexplained gifts or possessions that can't be accounted for; experiencing health problems that may indicate a sexually transmitted infection; having mood swings and changes in temperament; using drugs and/or alcohol; displaying inappropriate sexualised behaviour, such as over-familiarity with strangers, dressing in a sexualised manner or sending sexualised images by mobile phone ("sexting"); increasing screen time or showing unusual use of online platforms, such as websites, social media, apps or games; they may also show signs of unexplained physical harm, such as bruising and cigarette burns.
If you or someone you know has been raped or sexually assaulted, we encourage you not to suffer in silence and report it to the police, or a support agency so you can get the help and support available.
- Saint Mary's Sexual Assault Referral Centre, Manchester provides a comprehensive and co-ordinated response to men, women and children who live or have been sexually assaulted within Greater Manchester. They offer forensic medical examinations, practical and emotional support as well as a counselling service for all ages. Services are available on a 24-hour basis and can be accessed by calling 0161 276 6515.
- Greater Manchester Rape Crisis is a confidential information, support and counselling service run by women for women over 18 who have been raped or sexually abused at any time in their lives. Call on 0161 273 4500 or email help@manchesterrapecrisis.co.uk
- Survivors Manchester provides specialist trauma informed support to male victims in Greater Manchester who have experienced sexual abuse, rape or sexual exploitation. Call 0161 236 2182.