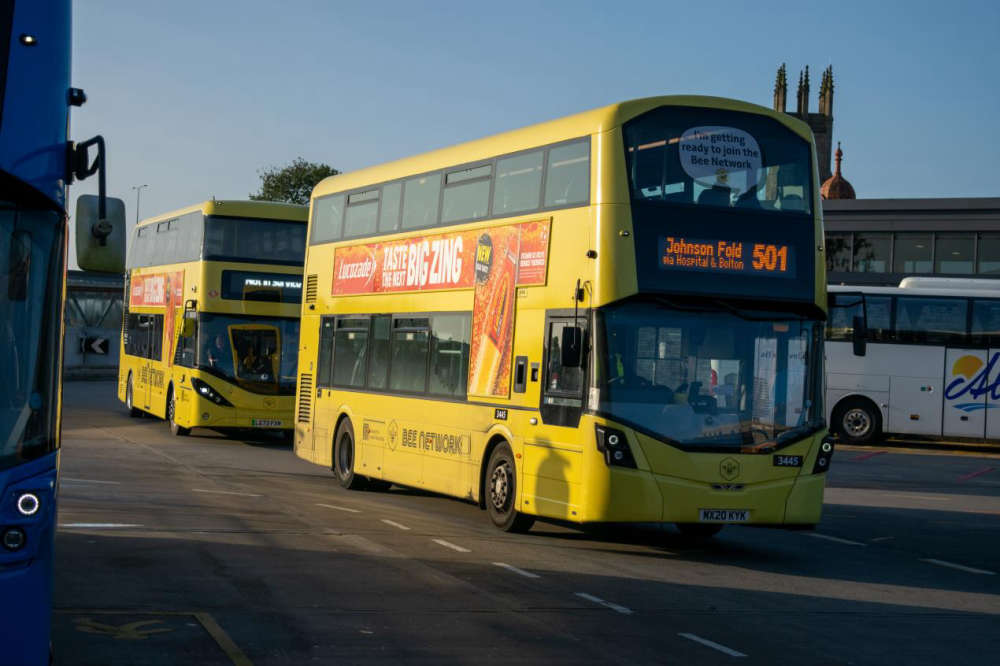 Patronage growth up by c.8% on Bee Network buses on weekdays since start of franchising Revenue generated from fares above forecast by 10-15%, supporting delivery of Bee Network services Performance of V1 service between Leigh and Manchester outperforming de-regulated service year on year. Bee Network app updated following customer feedback, with Apple and Google Pay functions going live in November, plus journey planning feature to be added in early 2024.
Greater Manchester is now one month into the launch of the Bee Network, with newly franchised bus services showing improvements in services day-by-day and operating at level at least the same or better than de-regulated services.
Meanwhile, the popular V1 service between Leigh and Manchester is now performing better than before, when comparing on time departures from Leigh for the same period last year.
The launch of the Bee Network has boosted the number of people travelling by bus and driven an improvement in bus services in recent weeks.
On 24 September, Greater Manchester became the first area to start taking control of bus services since deregulation in 1986. The move to a totally different way of running buses – literally overnight – in Bolton, Wigan and parts of Salford and Bury, saw new ticket machines and software installed on hundreds of buses, as well as the transfer of around 1,000 drivers.
With routes and fares set at a local level for the first time in almost 40 years, it also ushered in earlier and later, more frequent and better integrated bus services, cheaper multi-modal fares and 50 new electric buses.
Given the scale of change, the first few days brought operational challenges as the new arrangements bedded in, but TfGM has worked closely with the operators to quickly identify and resolve issues, such as additional route familiarity training for some drivers.
Patronage has grown steadily since 24 September, with the number of passengers being carried on Bee Network buses up by c.8% each weekday.
Money generated from fares is also above forecast by between 10% and 15%, with this additional money to be reinvested back into the local transport system and further support the running and improvements of services. In recent weeks, bus punctuality has risen from 70.7% to 74.4%, against a target of 80%.
Large numbers of people are also providing feedback on the new services, and having local control and accountability has enabled TfGM to respond much more quickly and effectively than before.
Following complaints that the 575 service was being impacted by road works, TfGM worked with the council to provide a dedicated bus lane, keeping passengers connected and services moving.
TfGM has also been able to adapt signal timings to help late services make up time and worked with the operator to increase capacity on the Ramsbottom local 472/474 services, in a way that we would not have been able to one month ago.
Mayor of Greater Manchester, Andy Burnham, said: "We moved to the first phase of a new way of running buses in Greater Manchester literally overnight, and the scale of change cannot be underestimated.
"There are already so many benefits to franchising. We brought in the £2 cap; we have earlier, later and more frequent bus services; the quality of our buses has improved; they are now integrated through multi-modal, cheaper ticketing with our Metrolink tram system; and passengers have a voice that will be listened to.
"We didn't expect everything to be perfect, but everyone involved has rolled up their sleeves and has been working hard to make things better.
"I would like to thank customers for providing their feedback about their journeys. This has meant we've been alerted to issues much quicker than before and further enabled us to respond quickly. Pleasingly, we have already seen an increase in passenger numbers on franchised services too.
"I'm pleased to say we are seeing improvements day-by-day; performance and reliability is up with busway services operating at a higher-level year on year, and I'm confident this will soon be mirrored across other services.
"This is just the start, and there is much more to come and much to be excited about. I have no doubt the Bee Network will be transformational for everyone living, working and visiting Greater Manchester."
Greater Manchester is now responsible for 188 bus routes, equating to around 20% of the overall Greater Manchester bus network. The next phase of franchising will see buses in Oldham, Rochdale, and parts of Bury, Salford and north Manchester come under local control on 24 March 2024, with the remainder of Greater Manchester bus services joining the Bee Network in January 2025.
Reliability is one of the issues most raised by passengers contacting the new Bee Network Customer Contact Centre, and over the next few years more than £400m will be invested to improve bus services, including reliability, with new bus lanes and other priority measures being developed to connect our towns and cities, alongside more electric buses and better passenger information. TfGM has also been working with local authorities to reduce disruption to bus routes caused by roadworks, and improve bus punctuality by installing traffic signal technology to prioritise buses.
Customer travel information has been enhanced and work has been done to resolve the small number of technical issues which were experienced around the launch of franchised services. Further improvements continue to be made to the Bee Network App including additional travel information and the addition of a Metrolink Zonal Map. Apple and Google Pay functions will be coming online in November, with a journey planning feature being added in the new year.
Notes to editors:
In the almost four decades since deregulation in 1986, bus use has plummeted, with the number of bus journeys across the city-region dropping from around 355m in 1986 to 182m in 2019.
The Bee Network seeks to reverse this decline, and is Greater Manchester's plan for an integrated, low-cost, network that brings together local trams, buses and bikes – and ultimately local train services – with the largest walking, wheeling and cycling network anywhere in the UK.
The move to a locally controlled network has enabled:
Earlier and later, more frequent and better integrated bus services to be introduced
The introduction of new multi-modal tickets, making joint tram and bus travel 20% cheaper
A new Bee Network app, providing live information for all local bus, tram and train services
New TravelSafe Enforcement Officers to help and reassure passengers
A more accountable service, with passengers able to rate their journey and influence operator payments
The introduction of 50 new electric buses, with hundreds more due to roll out over the coming years
As well as the myriad of passenger benefits, franchising is also cheaper than the previous model. Recently, additional subsidy has been required to maintain the bus network, including extra funding to cover service withdrawals, and the cost of this is higher on a per mile basis than the equivalent costs of running franchised services.