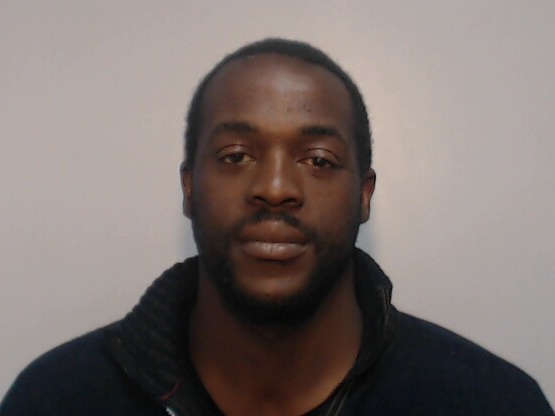 On Sunday 10 May 2020, officers received a rape disclosure of a 60-year-old woman in Openshaw. Officers attended the victims home address, and the victim was taken to Saint Marys Sexual Assault Referral Centre (SARC) for further tests and received immediate support and treatment from specialist officers and support services.
After officers conducted initial enquiries, it was established that the victim had been raped by a man in his 30's at a property in Openshaw. On Friday 22 May 2020, a 32-year-old man was subsequently arrested on suspicion of rape, assault, robbery and possession of an offensive weapon.
Meynard Murambakanda (17/05/1990) of no fixed abode was initially charged with Robbery for which he served 37 months imprisonment.
On Saturday 23 May 2020, Murambakanda pleaded not guilty to the Rape charges at Manchester & Salford Magistrates Court and he was subsequently remanded into custody to await further trial.
On Monday 13 March 2023, Meynard Murambakanda was sentenced to 8 years imprisonment at Manchester Crown Court for two counts of rape. After serving his sentence, he will face deportation.
Detective Sergeant Qadir Hussain of GMP's North Manchester district said: "I commend the victim for her bravery throughout this investigation and for having the strength and to report this horrific crime to Greater Manchester Police. This was no doubt a long and distressing investigation for the victim and her loved ones".
"Murambakanda preyed upon the victim and her vulnerability; he attempted to befriend her after striking up conversation outside her property and proceeded to meet with her multiple times within the space of three days prior to the offence.
"He was able to gain and abuse the victims trust by obtaining the victims personal information, including the pin number for her bank card. Murambakanda was then able to coerce the vulnerable victim to his property and unknowingly spiked a cup of tea she requested in order to stupefy her.
"He then proceeded to forcefully remove the victims clothing without her consent and raped her. Murambakanda then left the victim alone, vulnerable in his property and stole her bank card and withdrew around £650 from her bank account without her permission.
"Murambakanda's crimes are horrific and his lack of remorse for the victim and her welfare is despicable. Murambakanda is an dangerous individual who fully deserves the sentence imposed on him.
"The bravery of the victim has been incredible from start to finish. I would like to thank the victim for the strength and courage shown throughout the investigation and hope that this will, in some way, provide closure so that she is able to rebuild her life.
"This case demonstrates the seriousness with which Greater Manchester Police deal with report of sexual assaults, including those committed against women and girls. We will believe you, we will support you and we will do everything we can to bring an offender to justice."
Support Available
If you or someone you know has been a victim of rape or sexual assault, we encourage you not to suffer in silence and report it to the police by calling 101 or 999 in an emergency.
You can also report information and crimes on our website (www.gmp.police.uk) using the 'report' tool.
Alternatively, you can report information anonymously to the independent charity Crimestoppers on 0800 555 111.
There are also lots of organisations and support agencies available across Greater Manchester that can help and provide support for you.
For more information on rape and serious sexual assault and the support services available to you, please visit our support pages.
Here are a few examples of the the support centres who can help:
St. Mary's Sexual Assault Referral Centre - Manchester provides a comprehensive and co-ordinated response to men, women and children who live or have been sexually assaulted within Greater Manchester.
They offer forensic medical examinations, practical and emotional support as well as a counselling service for all ages.
Services are available on a 24-hour basis and can be accessed by calling 0161 276 6515.
Greater Manchester Rape Crisis - is a confidential information, support and counselling service run by women for women over 18 who have been raped or sexually abused at any time in their lives.
Call on 0161 273 4500 or email help@manchesterrapecrisis.co.uk
Survivors Manchester - provides specialist trauma informed support to male victims in Greater Manchester who have experienced sexual abuse, rape or sexual exploitation.
Call 0161 236 2182.