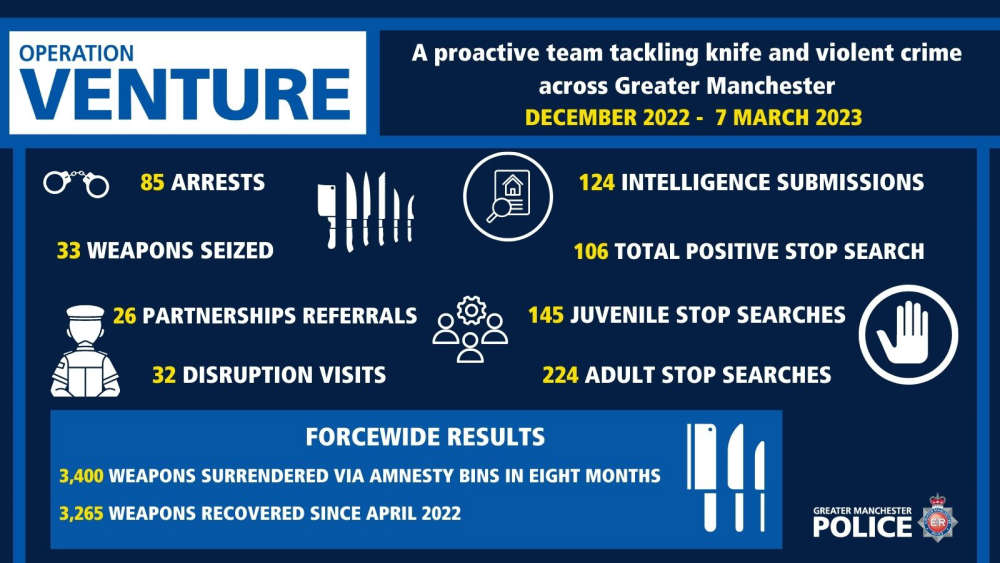 A dedicated team set up to tackle knife and violent crime across Greater Manchester has resulted in 85 arrests for a range of offences from possession of an offensive weapon and attempt robbery to public order and drugs offences.
Operation Venture, which was formed in early December 2022, has been responding at a rapid pace to combat the threat of knife crime.
As well as 85 arrests, since its inception the team have also conducted 32 disruptions visits, 26 partnership referrals and submitted 124 dedicated intelligence reports mapping out knife crime hotspots and threats across geographical locations.
They have also been and continue to use a range of tactics to detect and deter knife-related crime in neighbourhoods across Greater Manchester – from conducting patrols in hotspot areas and executing warrants to targeting offenders known to carry knives and conducting weapons sweeps in areas known for discarding knives.
Inspector Jon Ezard, Lead for Operation Venture said: "Every incident involving knife crime or serious violence is one too many, and we know the devastating effect that these can have on our communities.

"We have arrested 85 individuals and taken 33 weapons off our streets as we look to tackle knife crime and the hurt it is causing our communities.

"We will not tolerate knife crime on our streets, and we will not stop until our communities feel safe where they live, safe where their children play and safe in the knowledge that when they need us, we will be there to apprehend the individuals involved in this type of criminality.

"We cannot do this alone however and we urge you to get in touch if you suspect anyone is involved in violent criminality. Thanks to members of the public reporting their concerns, we have made several arrests and continued to build our intelligence pictures to keep our communities safe."
Operation Venture is also complemented by the work of Greater Manchester's Violence Reduction Unit – a multi-agency team that seeks to address the underlying causes of violence and works together with communities to prevent it.
Deputy Mayor for Policing, Crime, Criminal Justice and Fire, Kate Green, said: "Operation Venture has proven effective in taking knives off our streets and making our communities safer, and I would like to thank each of the officers for their dedication to removing weapons and keeping people safe.

"Alongside a proactive policing approach, a key part of our work in Greater Manchester is educating those who might be at risk of offending. Since launching in 2019, Greater Manchester's Violence Reduction Unit (VRU) has commissioned and supported education programmes in schools across the city-region. For example, the Social Switch programme is educating local young people, parents and professionals in Greater Manchester on the safe use of social media. We have also developed relationships with local schools through School Engagement Officers and local neighbourhood officers, who have been educating pupils around the dangers and consequences of knife crime, not only for victims, but their families and the wider community too.

"With voluntary organisations across Greater Manchester, the VRU has also launched eight community-led programmes across the city-region, with two others launching soon – one in each district - tailored to the local community's needs. They work closely with communities to understand their strengths, challenges and needs determine how local investments will be made. The programmes have delivered peer mentor sessions, family work, school sessions, street work sessions, training workshops, and much more.

"There is no place for knife crime or violence of any nature in Greater Manchester and any incident is a real concern. The latest data available shows we have made some progress, with the number of knife-related offences falling by 168 in the 12 months to January 2023. We know we still have a long way to go, but we will continue to work hard to keep people safe across the city-region."
If you have any concerns, please report them to GMP via 101 or the LiveChat function on our website. Always call 999 in an emergency.
Alternatively, you can contact the independent charity Crimestoppers anonymously on 0800 555 111. Crimestoppers also have a dedicated website which enables 11 – 17-year-olds to pass on information anonymously – this can be accessed through Fearless.org