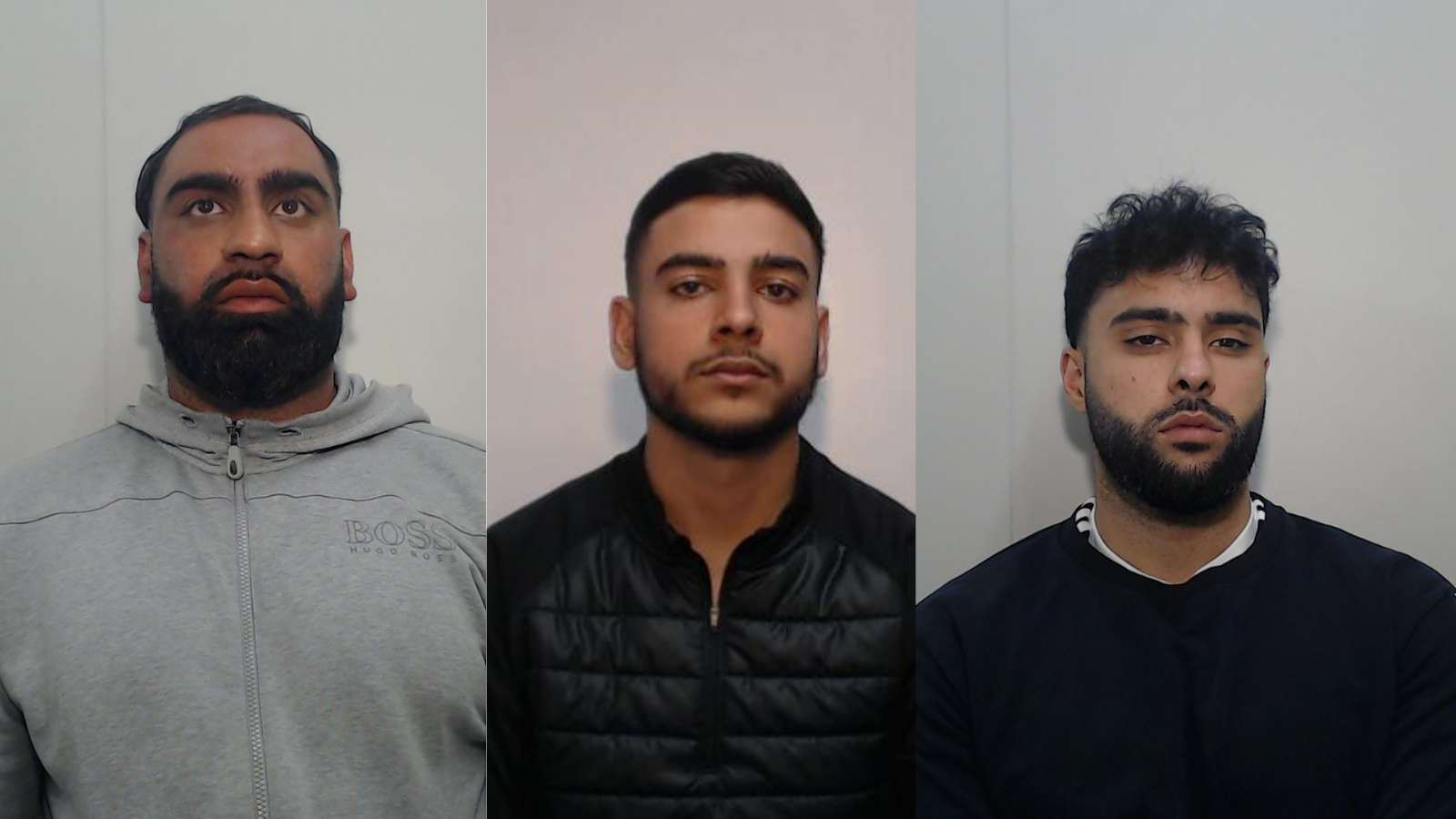 Pictured (L-R); Usman Yousuf, Azaan Tariq, Mohammed Majeed / Photo: Greater Manchester Police
Three men have been sentenced at Manchester Crown Court today following an investigation by Greater Manchester Police Serious Organised Crime Group which uncovered 23 kilos of Cocaine and over £15k cash.
Usman Yousuf, 31, was sentenced to 12 years in jail after he pleaded guilty to conspiracy to supply class A drugs.
Mohammed Majeed, 30, was sentenced to nine years and ten months in jail after he pleaded guilty to conspiracy to supply class A drugs.
Azaan Tariq, 20, was sentenced to three years and four months in jail after he pleaded guilty to conspiracy to supply class A drugs.
Their movement had been captured by Mr Yousuf's own CCTV cameras, incriminating them, and giving police an insight into their criminal enterprise.
On Friday 22 July 2022, at around 8pm, CCTV footage showed Usman Yousuf arriving home with a large, heavy, blue holdall.
An hour later, Mohammed Majeed was seen arriving at the same address, leaving with the blue holdall. Later that evening, he was seen dropping this bag at a shipping container in Rochdale.
On Monday 25 July 2022, officers executed a warrant at Yousuf's residence. In his car, officers discovered receipts showing large cash deposits and drugs paraphernalia consistent with a large-scale drug operation including food bags and scales bearing residues identified as cocaine. Almost £15,000 cash and nine large bags of cocaine were also seized from his car. The search of his house uncovered more cash hidden away and multiple phones. It was in Yousuf's house that officers were able to seize the CCTV footage.
Later that evening, Majeed was seen leaving his house with the blue holdall and making his way to the shipping container. As he arrived home, officers arrested Majeed and began a search of his address. They discovered multiple phones and sim cards connecting him to this enterprise and over £500 hidden in a cushion.
The next day (Tuesday 26 July 2022) officers executed a warrant at the shipping container that CCTV footage had caught the trio visiting. Inside, they found the large blue holdall Usman Yousuf and Mohammed Majeed had been seen carrying the night before. The bag contained 23 kilograms of cocaine valued at around £700,000.
On Thursday 28 July 2022, officers attended Azaan Tariq's house. He'd been spotted on Yousef's CCTV camera coming and going from the property with large, heavy carrier bags. A search of the property led police to discover multiple hidden mobile phones and clothing which matched the seized CCTV footage, placing him at Yousef's property on multiple occasions.
A subsequent examination of their mobile phones detailed their conversations, movements, and drug supply across Rochdale.
Detective Inspector Roger Smethurst of GMP Serious Organised Crime Group said: "Today's sentencings come as a result of months of hard work by detectives who launched an investigation as part of GMP's continued crackdown on drug supply in the region which blights our local communities.
"Drugs on the streets can have a huge effect on communities and are often a catalyst for serious crime due to drug disputes, and today's sentencings are another step forward in disrupting serious, organised crime and removing dangerous individuals off our streets.
"As always, we would ask that anyone with information of drug supply in the community or anyone with concerns to please get in touch. Intelligence from members of the public continuously helps us with our on-going investigations - no matter how small the information may seem.
"Anyone with information should report it online or by using our LiveChat service at www.gmp.police.uk. Alternatively, contact the independent charity Crimestoppers anonymously on 0800 555 111."