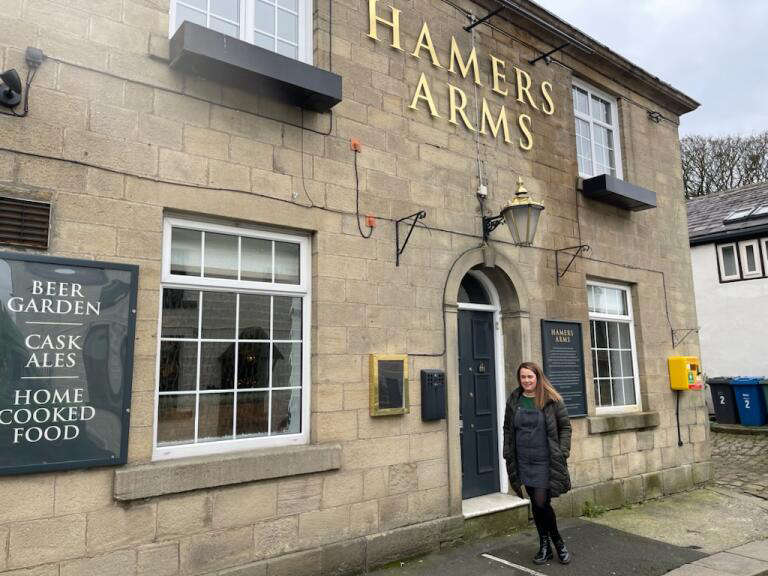 A local landlady has saved a Summerseat pub from closure, with the aim of making it a key community asset.
Lisa Moore, who is the owner of the café bar chain Cosalea and former landlady of the Victoria Pub in Walshaw has taken over the Hamers Arms on a short-term contract.
Today (7th February) they have picked up the keys to the premises with their first day of business being on Thursday (9th February), food service will start a day later on Friday (10th February).
The previous management team handed in their notice to Star Pubs & Bars Limited part of the Heineken Group, who own the pub, just before Christmas meaning the team came to Lisa looking for support to avoid closure.
Lisa has a great affinity for the area of Summerseat having grown up there, her parents owned the newsagents Mills and Wrigley on Newcombe Road, and she went to school at nearby Woodhey High School.
She said: "Returning to Summerseat as the temporary landlady of the Hamers Arms is an exciting prospect for me.
"I have fond memories of growing up & the pub being a big part of village life. Along with the team, I look forward to engaging with the local community, serving some good quality food & bringing our experience to enhance the good work already done.
"Working in partnership with Star Pubs & Bars I am sure we can help realise the potential of these newly refurbished premises."
Local burger and pizza food vendor Boo's will also be joining their project, having previously worked at the Sundial in Walmersley which closed its doors last month.
As well as serving food and drink, the new team at the Hamers Arms will host other community events including craft sessions and cabaret lunch, which have performed well at their other sites previously.
Lisa and her team want to also utilise the pubs space outside of trading hours, as they are looking to work with local businesses, community groups and other organisations in the area.
The pub undertook a £250,000 refurbishment last May in which many areas were upgraded including the exterior and interior of the building, adding new flooring, furniture, a commercial kitchen, and reinstating the open log fire.
Tracy Duncan, Star Pubs & Bars' area manager said: "We're delighted that Lisa is taking over The Hamers.
"With two popular cafe bar's in the area, she has got a great understanding of what local residents want as well as a reputation for serving fantastic food and drink.
"Lisa has lots of exciting plans to help The Hamers thrive as a top-quality community local. We wish her all the best!"
Local councillors also welcome the new team, Cllr Liam James Dean of North Manor Ward said: "Our community should be really excited that Lisa is coming back home to her roots in Summerseat to take on The Hamers Arms.
"Knowing what she's done in other places and the community spirit she creates around her businesses I'm looking forward to the future of The Hamers."