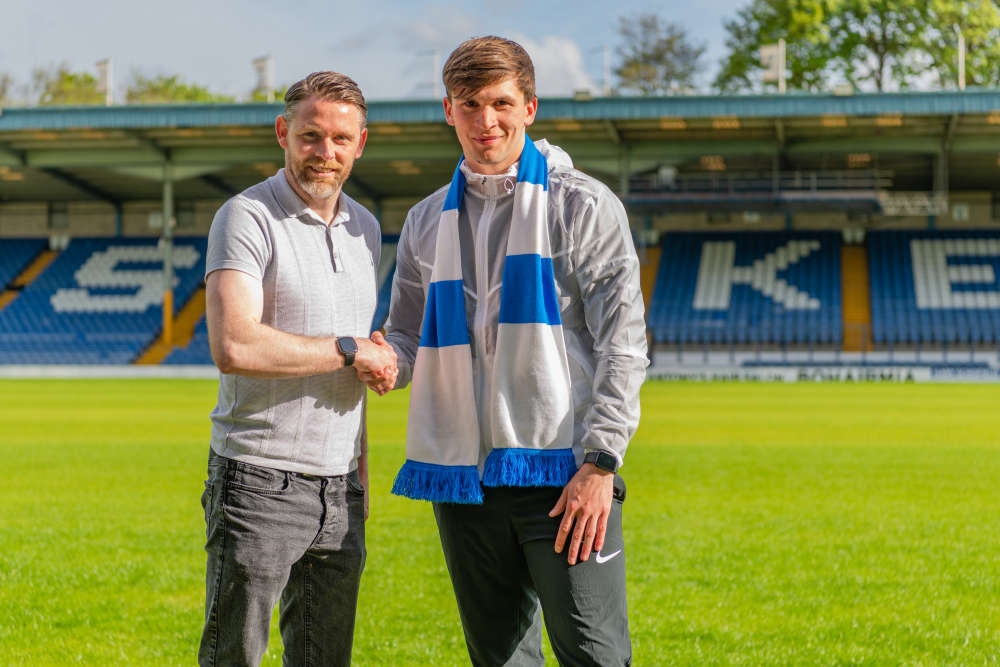 Andy Welsh (left) pictured with new signing Benito Lowe (Credit: Phil Hill / Bury FC)
Bury FC have confirmed their first summer signings, as the club builds towards the 2023/24 season.
New signings include former Wythenshawe Town forward Benito Lowe and defender Gaz Peet, whilst Jack Atkinson, Lewis Gilboy & Connor Comber have all extended their contracts.
Lowe scored 22 goals across 34 games last season and his arrival has excited the fans.
"It was a no-brainer for me really, and I solidified my decision when I turned up [at Gigg Lane] with my mum, and looked out onto the pitch, he commented.
"Everyone knows, we shouldn't be where we're playing, and we've got ambitions this year to win the league and hopefully it's a stepping stone for all of us.
"Everything about the place, I can't wait to get going now."
Peet joins the club after clocking up over 400 appearances for Atherton Colls during a spell that lasted over a decade. He's been described by his former club as a tricky wing-back with a killer eye from free-kicks.
Upon signing he said: "I am really excited to be signed, the history of the club and also the chance to help the club progress on the pitch is the main reason I've signed, I want to get promoted in front of all the fans is the aim."
It was also confirmed today that three players have extended their contracts with the club for the new season.
Goalkeeper Jack Atkinson has been pretty much ever-present in Andy Welsh's Bury AFC side over the past two seasons.
The 22-year-old made 98 appearances for the club over the past two seasons and has previously played football in the Welsh & Gibraltar pyramids.
It's safe to say, Atkinson can't wait to get going: "With it being three or four years since the first competitive game that's going to be played here, the place is going to be absolutely rocking for the majority of the season.
"If we are hitting good form like we have been for the last two seasons, I'm sure it will be a really good place to be for the next season."
Winger Connor Comber has also committed for the new season.
The 23-year-old was involved in 23 goals last season, scoring 18 and assisting a further five.
Comber has previously been on trial with QPR, as well as spending time at Atherton LR.
He said: "I can't wait to get going, it's going to be big, very big. I want to get as many goals as I possibly can and I want to lift everyone here that's watching."
Fellow winger Lewis Gilboy has also extended his deal.
The 23-year-old was on the books of Accrington Stanley before playing for Bury AFC, he has also previous non-league experience in the Northern Premier League with City of Liverpool.
Gilboy top-scored for Andy Welsh's side last season, with 22 goals.
"I have had a good few seasons with Bury, with things happening and the club moving forward as a whole.
"We've got goals that we want to be hitting for next season, as a team he [Andy Welsh] wants me in that side and I want to be a part of it.
"It's going to be a massive season for us and hopefully with some silverware at the end of it."
It's been a busy time for manager Andy Welsh to get his squad together ahead of pre-season friendly starting within the next few weeks.
Speaking on his signings he said: "Lewis and Jack have had two really good seasons with us, proved themselves at these levels both in performances and off the field.
"Connor came in last year and he's been an absolute revelation. We are expecting all of those to kick on again, and I think it's important that fans can relate to players on the pitch.
"Benito has had a fantastic year at Wythenshawe, he's someone that came on the radar when he was at New Mills in the previous season.
"It's his overall game, he knows he's coming here to learn more about his game. He could be a really good addition and someone that the fans should get excited about.
"Gaz is someone I've been monitoring for years now. He has an unbelievable engine to get up and down the pitch joining in attacks but also most importantly defensively very hard to beat.
"He has come from a much higher level and offers us the experience we need at the club to build on and add competition to an already very strong group of players and I'm pretty sure if he performs like we know he can he is a player that will be a firm fans favourite with his hard working performances."