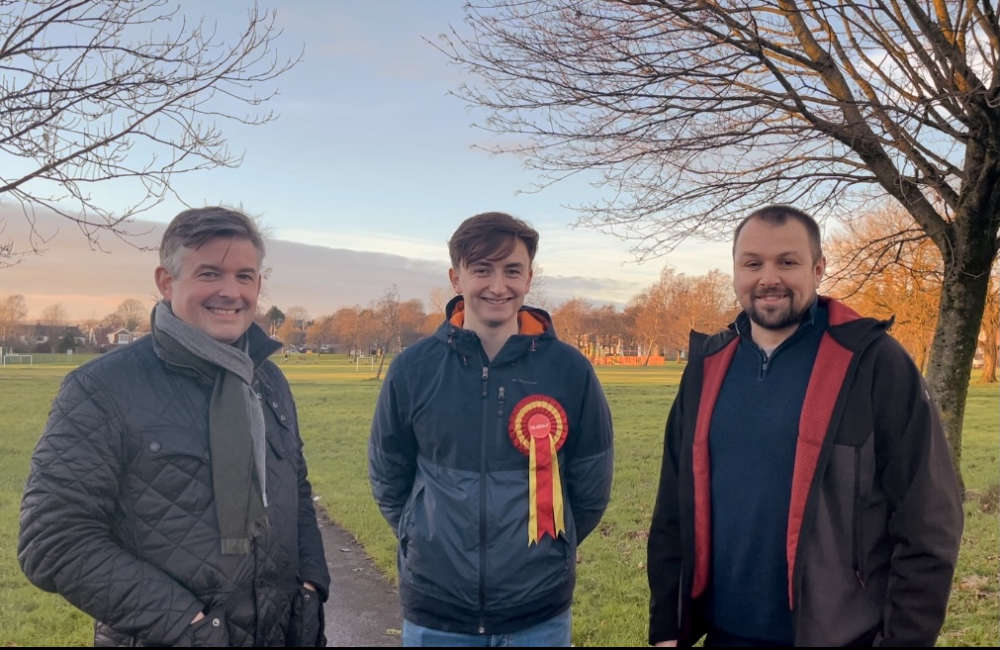 Cllr Kevin Peel (right) with Shadow Secretary of State for Work & Pensions, Jonathan Ashworth (left), and campaigner George Butler (centre).
Bury Council is set to debate a motion this evening, to save debt advice services for residents in Bury and Bolton.
The motion comes following a campaign backed by over 100 residents and local councillors to secure the support of MPs across the two boroughs for the campaign.
Face-to-face debt advice will be cut by over 50% in favour of remote services Following a backlash, the procurement process has been paused, but existing services have only been given a 6-month extension and no guarantees have been given about protecting face-to-face services or re-balancing the funding.
High level support has been received from Jonathan Ashworth MP, Labour's Shadow Secretary of State for Work & Pensions, who came to Bolton to call on local MPs to lobby their government to protect face-to-face debt advice, which is set to be slashed under Government proposals for the future of debt advice services in England.
Speaking in Bolton, Jonathan Ashworth said: "We've got to get the MPs in the area to take their heads out of the sand and support this campaign to maintain face-to-face debt advice in Bolton and Bury because it's so important when people are struggling that they get that specialist help."
Cllr Kevin Peel, who is a trustee of Citizens Advice and is leading the campaign, said it was disappointing that Conservative MPs hadn't yet responded, but urged councillors from across all parties to get behind the motion.
He said: "Over 4,000 people accessed free, impartial debt advice through Citizens Advice Bury & Bolton in 2021 and numbers are increasing as residents feel the impact of rising food, fuel and energy costs. This affects people in every part of Bury and Bolton and I would urge all councillors to back the campaign. If our MPs won't stand up for local debt advice services, we must."
The motion calls on the government to scrap entirely the procurement process and review the evidence, fund existing services for 12 months to allow service providers to plan ahead and retain staff, commit to protecting face-to-face debt advice and re-balance the funding so the North doesn't lose out.
Bury Council has committed to supporting the calls made by Advice UK, the Institute of Money Advisers, the Law Centres Network, the We Are Debt Advisers campaign, the Unite Debt Advice Network and Greater Manchester Money Advice Group, among others, for the Government to:
• Scrap the current procurement process entirely
• Extend funding for 12 months for existing services to enable them to plan properly and retain staff
• Re-examine the process and the evidence for the cut in face-to-face advice services, including the impact the proposed changes will have on the most vulnerable clients
• Re-balance the funding so the North doesn't lose out
The council will also write to the Chief Executive of the Money and Pensions Service and the Secretary of State for Work and Pensions to make clear their support and the continuation of face-to-face debt advice services in Bury.
Bolton Council was set to debate a similar motion on Wednesday evening proposed by Cllr Kate Challender but due to the meeting being cancelled, it will be debated at next months council meeting.