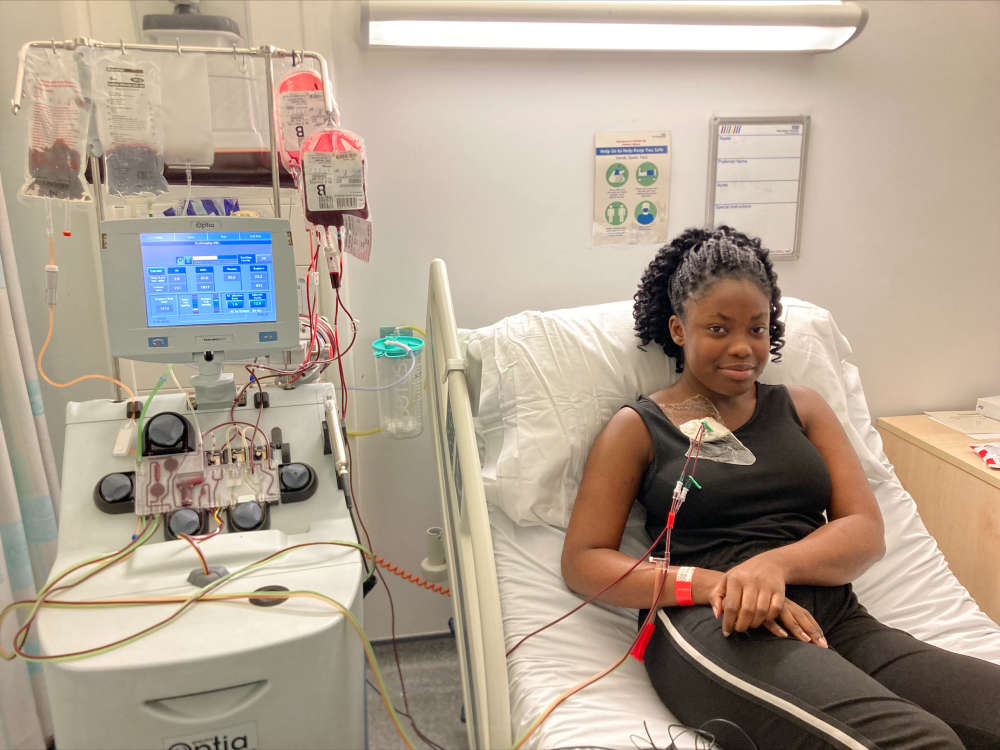 Manchester teenager with sickle cell backs urgent NHS plea for more donors of Black heritage during Sickle Cell Awareness Month

A teenager from Greater Manchester who relies on 100 people a year to save her life is backing an urgent call from the NHS for more blood donors from the Black community to help people with sickle cell.

Tiffany Salako (pictured), 17, from Oldham, has sickle cell and every six weeks has all her blood replaced by donor blood, a procedure known as a red cell exchange.

Sickle cell patients on the exchange programme need donations from 100* people a year on average, according to new statistics from NHS Blood and Transplant.

But only around 50** of these donors are likely to be the best match, putting these patients at risk of serious complications.

New figures also reveal that demand for blood to treat sickle cell patients in Manchester has tripled. Hospitals in the city requested 3,619 units in 2022/23 compared with 1,186 in 2016/17.

Nationally, demand has risen by 50 percent*** during this period. The increase is driven by the greater use of red cell exchanges.

The figures have been released during September's Sickle Cell Awareness Month to show how blood donation saves and improves the lives of people living with sickle cell. It marks the latest stage in NHS Blood and Transplant's Giving Type campaign which encourages 'Giving Types' to consider becoming a blood donor, particularly those of Black heritage.

Sickle cell is the UK's fastest growing genetic disorder. It is more common in people of Black heritage and ethnically matched blood provides the best treatment.

But the shortage of Black heritage donors means sickle cell patients do not always get the best matched blood. Where matched blood isn't available patients are treated with the universal O negative blood type. This is clinically safe but can put them at risk of potentially life-threatening reactions. It also makes it even harder in the long term to find blood they can receive.

Tiffany was diagnosed with sickle cell as a baby. While growing up she experienced many episodes of excruciating pain, known as crises, which affected her breathing and ability to walk. She remembers her childhood as being in an out of hospital.

In her early teens Tiffany's hospital admissions became more frequent but her high iron levels meant she was unable to receive a blood transfusion, which is used to treat crises. During one crisis her pain was so bad she was admitted to the High Dependency Unit.

At the age of 15 Tiffany was placed on the red cell exchange programme at Manchester Royal Infirmary, which is run by NHS Blood and Transplant's Therapeutic Apheresis Services. She says the treatment has been life changing.

Tiffany, who is studying A'levels at Oldham Sixth Form College, said: "It has been hard to miss a lot of days just hanging out with my friends and missing school when I haven't felt well. I had to do my GCSEs when I was on strong painkillers which was really tricky.

"The pain of a crisis could be terrible. I get pain in my legs and I struggle to walk. I have to spend a lot of time in bed, and I can't eat. During the worst ones I couldn't breathe. It's frightening.

"But the blood exchanges have made such a difference to my life. Afterwards I feel good and any weakness is gone. I'm so much more active now. I still get pain sometimes, but I haven't suffered a crisis or been admitted to hospital since. I can lead a normal life."

She added: "Before I started getting exchanges, I hadn't really thought about blood donors. The idea that people give blood, especially if they don't know anyone with sickle cell, is incredible. They are doing a great thing. I'm so grateful, they have changed my life. They have enabled me to have a life."

Sickle cell causes red blood cells to form into sickle or crescent shapes and become stuck in blood vessels, causing episodes of severe pain known as crises, as well as serious or even fatal complications including organ damage and strokes. Donated blood is used in routine and emergency treatment.

Dr Farrukh Shah, Director of Blood Transfusion at NHS Blood and Transplant, said: "Although there is an increasing number of blood donors from the Black community, we continue to need more because of the need for better matched blood for people living with sickle cell.

"People of Black ancestry are 10 times more likely to have the blood types that match patients on regular blood transfusion programmes.

"Having blood that is better matched is critical for patients with sickle cell. It reduces the risk of transfusion reactions which can cause serious complications, and significantly improves people's long-term health.

"Giving blood is easy, quick and safe - and you will save and improve lives."

Regional Director for London in the Office for Health Improvement and Disparities Professor Kevin Fenton said: "People with sickle cell rely on blood donations.

"Working together with NHSBT and thanks to the generosity of existing donors, we have made progress in recruiting donors of Black heritage but more people are urgently needed to meet the growing demand.

"I urge everyone, especially those of Black heritage, to consider donating blood."

Become a blood donor and book your first appointment via the GiveBloodNHS app or at www.blood.co.uk. If you can't find an appointment straight away please book for further in the future. Your blood will still help to save lives then.