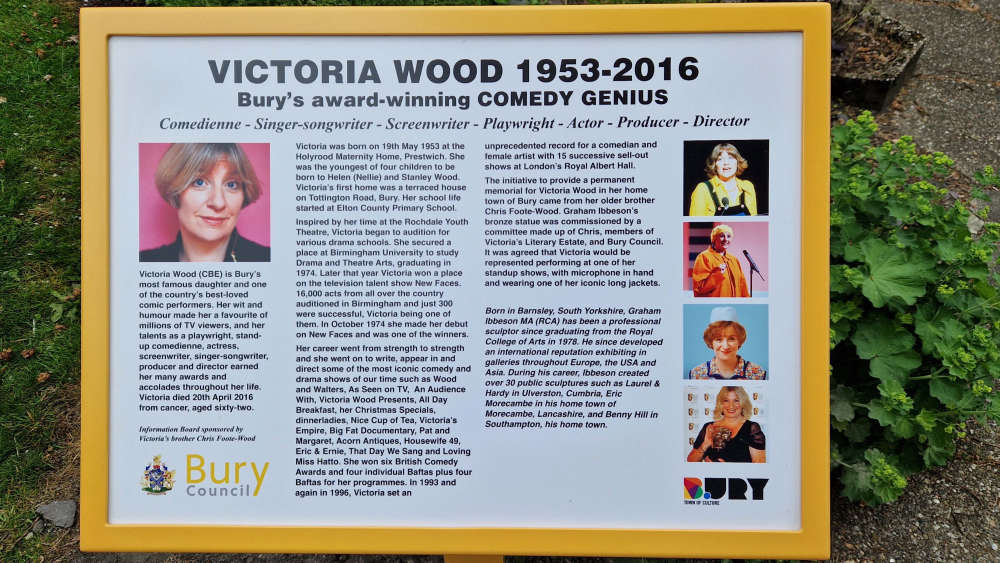 An information board has been installed beside the statue of Victoria Wood in Bury Town Centre.
Victoria, died of cancer in 2016 aged 62. It outlines her life and work and features several colour photographs of the multi-talented star including one with one of the several Baftas she won for her performing, writing and acting.
The board has been sponsored by her brother Chris Foote-Wood, and was unveiled today on what would have been her 70th Birthday.
Victoria's statue, created by internationally famous Yorkshire sculptor Graham Ibbeson, was unveiled four years ago by Chris and comedian Ted Robbins in front of a large crowd. Chris initiated the scheme and raised much of the cost. The statue was commissioned by a committee made up of Chris, Victoria's literary estate and Bury Council.
Speaking about the installation, Chris said: "It was agreed that the statue and plinth should be as uncluttered as possible. As Victoria had achieved so much in her life, the more detailed narrative was left until later.
"It has taken longer than expected to put up the board, partly due to Covid restrictions, but I am very pleased this last element is now in place.
"Victoria's statue opposite the Library and Art Gallery has attracted hundreds if not thousands of visitors to the town. From now on this visit will be a much richer experience for Victoria's many fans."
Councillor Charlotte Morris, Bury Council cabinet member for culture and the economy, said: "Victoria was loved across the world for her comedy, acting and writing, and we are proud to call her one of our own. She is much missed, but will never be forgotten."
Victoria's brother also added his thanks to the support of Bury Council & the public who donated to a crowdfunding appeal, without this money it wouldn't have been possible.