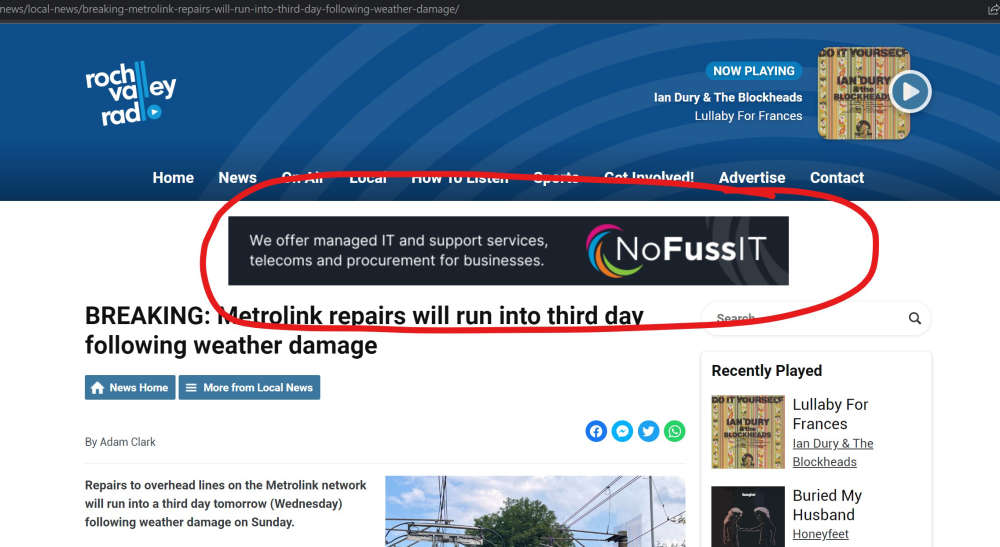 Did you know
Roch Valley Radio broadcasts across Rochdale, Bury, Oldham and Bolton from our Rochdale studios, providing brands with a way to speak to a potential audience of 935,203 local listeners within the boroughs via a medium they trust. Radio is an emotional influencer with the power to enhance brand perceptions at a subconscious level.
We also provide news articles, podcasts, photo galleries, event "what's on" pages and lots more through our website which attracts thousands of visitors each month.
So if an 'On Air' advert might not be what you're looking for, then our Display Adverts on Roch Valley Radio will tick all of the boxes.
We can provide the following:
Leaderboard Adverts - positioned at either the top or bottom of every page, This is a great space to promote a product or service that you provide.
Billboard Adverts - this is a large billboard advert space that provides an eye-catching experience in a prominent position on our website.
MPU Adverts (boxes) - positioned on the side of the pages alongside the content. This is our premium and prime position on the website.
Sizes
Leaderboard Adverts - 728 x 90 px
MPU Adverts - 300 x 250 px
Billboard Adverts - 970 x 250 px
Let's get started!
We'll craft a campaign for your budget. Request our media pack below to get started!
Advertising Terms and Conditions