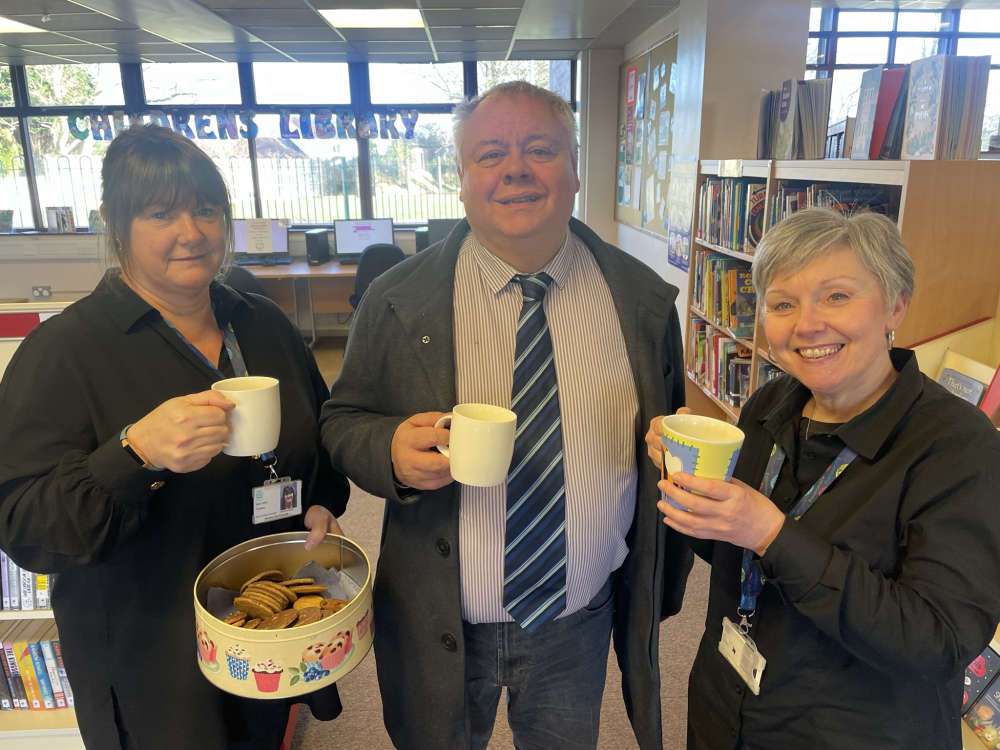 Rochdale Borough Council's cost of living support has included warm space venues. Council leader Neil Emmott is pictured at Alkrington Library
Rochdale Borough Council is to provide further cost of living support to thousands of residents and families with an additional £4.6 million of investment.
A package of support will utilise funding from the government's Household Support Fund to provide assistance for those in greatest need through:-
Support for low income households through free school meals e-vouchers during school holidays
Help with energy costs for over 6,000 pensioners on the lowest incomes
The extension of the local household fund, providing over 8,000 residents with food and fuel vouchers
A further £500,000 of investment to support the warmer homes scheme
Councillors are set to approve the investment at a meeting of the council's cabinet committee on Tuesday 28 March.

The targeted help is part of the council's ongoing Helping Hand campaign which has seen thousands of residents provided with support to help reduce their cost of living. Once again, food voucher support will be targeted at over 13,000 children in the borough who are eligible for free school meals or identified through children's services. Families will be contacted directly with details of how to access the support, which will be provided during school holidays throughout the year. In addition, up to 7,000 households will receive a further £120 discount from their energy bills. This support will focus on residents currently aged 66 or over in receipt of local council tax support and will be paid in two instalments of £60 over the year. The council will also be working with partners across the borough, including the voluntary sector, community groups and charities, to ensure those most in need are helped to access our local household fund or warm homes support.

Councillor Neil Emmott, leader of the council, said: "This package provides support to those most in need in our borough, especially older residents, the vulnerable and young families. I am proud of the assistance we are providing to help our residents offset their cost of living. I have always said that, as a responsible and progressive council, it's important we help to ensure that no resident should go hungry, is unable to heat their house, or feed their family and our assistance provides people with that vital helping hand during these tough times."

Councillor Rachel Massey, cabinet member for children's services and education, said: "Our food voucher scheme has been a vital help for thousands of young families across the borough and, as the cost of living crisis continues, we are taking action now ensuring a helping hand remains in place during school holidays. Over 13,000 young families will benefit from this vital support and I know from speaking with residents across the borough how much they value and welcome our ongoing support."

Households who are in particular need are being encouraged to get in touch, to see what assistance could be available for them. Residents can contact the council's hotline number on 01706 923685, 9am-5pm, Monday to Friday, for help and further information.