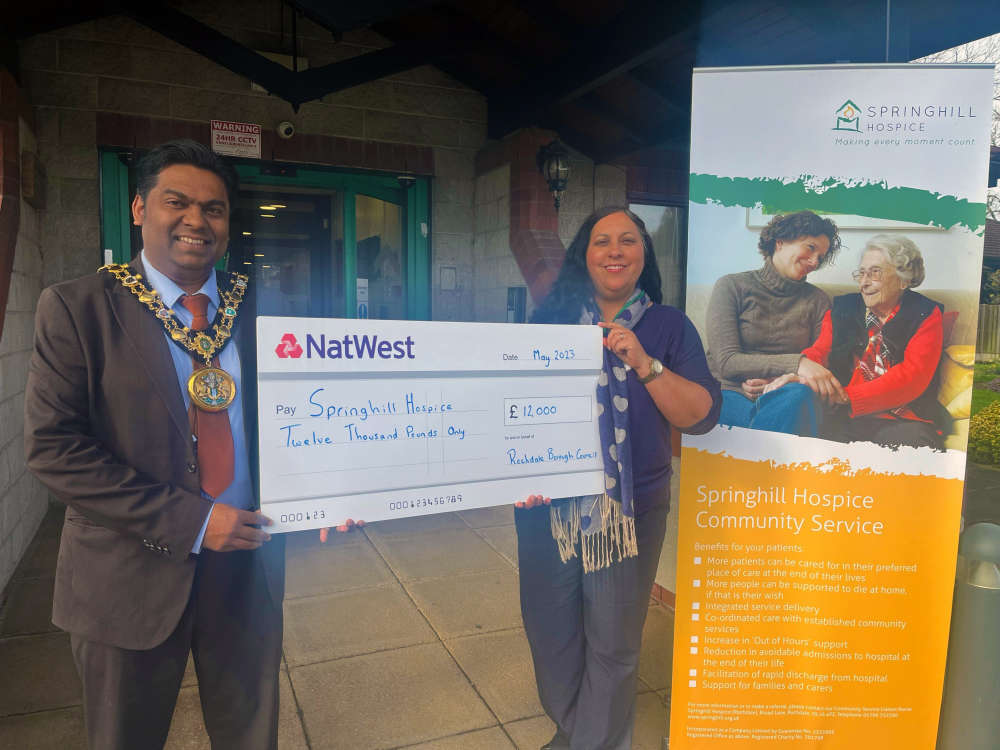 £12,000 donation to Springhill Hospice, presented by the Mayor of Rochdale, Councillor Ali Ahmed to Joanne Ali
Local charity Springhill Hospice has been chosen to receive a £12,000 cash boost thanks to a national scheme that recycles metals left over from cremations.
The scheme, supported by Rochdale Borough Council is managed by the Institute of Cemetery and Crematorium Management (ICCM) and OrthoMetals and allows metals such as artificial joints and coffin fittings to be recycled into new products, following a prior agreement by the family of loved ones.
The £12,000 donation raised from cremations held at Rochdale's crematoria will be paid in May 2023 to the hospice, which first opened its doors in 1989, helping patients and their families to cherish every moment, even at end of life.
The donation is earmarked to help significantly towards the work in supporting these families with adults living with life-limiting illnesses within the borough of Rochdale who needs palliative care.
Councillor Liam O'Rourke, cabinet member for climate change and environment, said: "We are pleased to have played our part once again in the donation of this substantial sum of money, this time gifted to Springhill Hospice who work wonders to help support residents across the borough to make every moment count.
"Seventy per cent of their running costs need to come from fundraising, so this boost will play a significant part in helping our residents and their families in their time of need.
"This money can only be raised thanks to the local families who give us express consent to collect metals at both Rochdale and Middleton crematoriums to enable us to continue to support this vital scheme."
Jo Ali, community engagement officer at Springhill Hospice, said: "We are thrilled and grateful to receive this funding and our thanks to Rochdale Borough Council for their support in making the application.
"Springhill Hospice needs to raise over £8000 per day from fundraising within our local community to fund all our services, and as we face a large deficit going into the new financial year, raising money is more vital than ever.
"This £12,000 donation will provide a huge boost and allow us to continue to provide care to so many people in the borough when they need us most, from the inpatient unit to bereavement services."
The scheme has now raised over £17,000,000 since 2006. This round has made 158 separate donations, totalling £1.68 million to good causes across the UK.
If you are a local charity offering bereavement services to borough residents, you can apply to receive a donation in the next round, which will be available later this summer.
See rochdale.gov.uk/funerals for further information and how to apply.