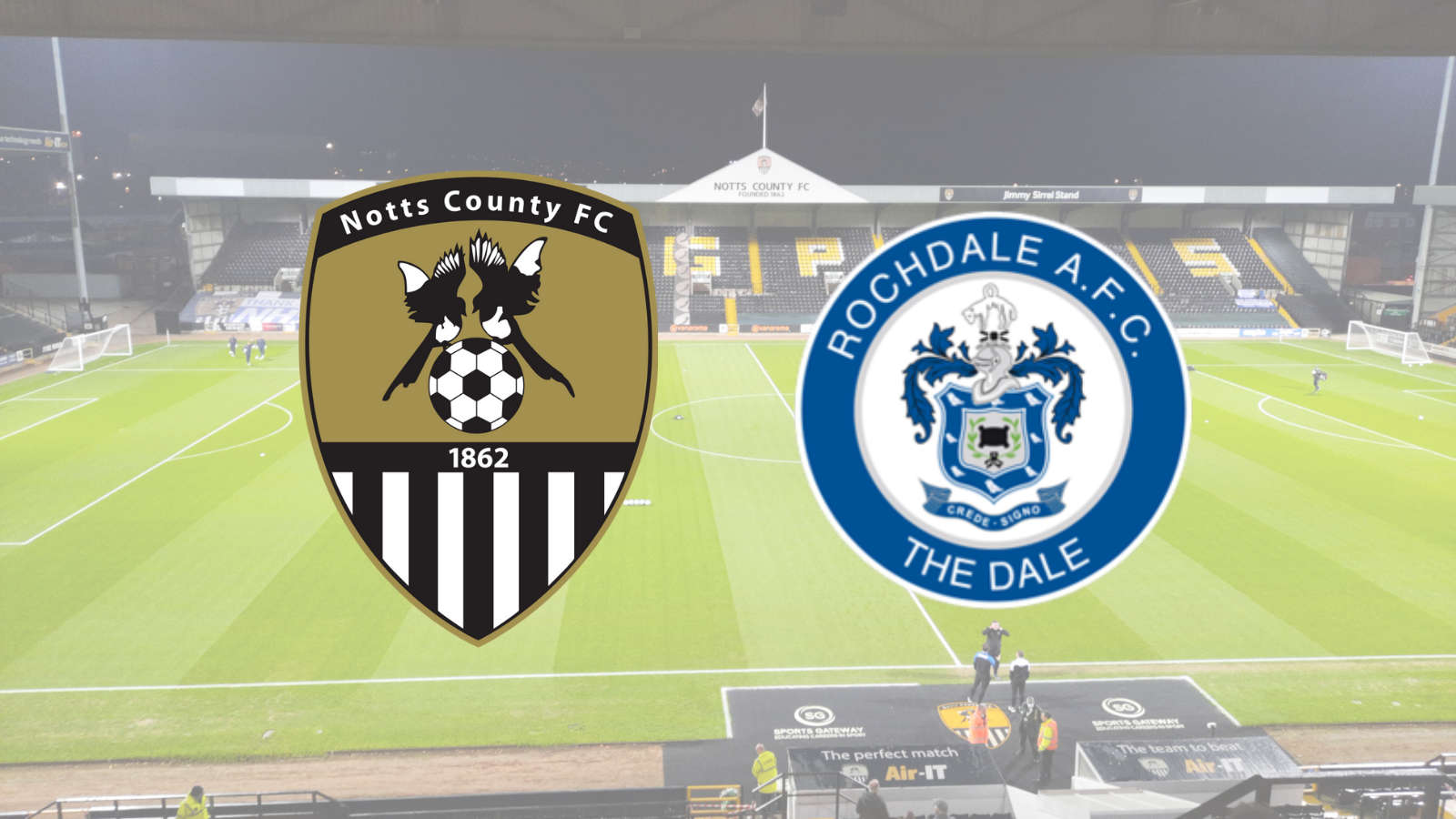 Rochdale came through a tough test in their Emirates FA Cup round 1 replay against National League side Notts County with a 2-1 victory at Meadow Lane, to set up a televised round 2 tie at home to Plymouth on Sunday 5th December.
Robbie Stockdale once again restored Jay Lynch to the starting XI in goal in place of Joel Coleman, and also brought in Josh Andrews, Aidy White and Max Taylor, in place of Abraham Odoh, and the injured duo of Jimmy Keohane and Sam Graham.
Notts County had the first attempts at goal – Ruben Rodrigues' through ball to Kairo Mitchell resulted in a shot hit high and wide by the latter, a few moments before penalty appeals were waved away by referee James Bell as Kyle Wootton went to ground on the edge of the box.
In the 16th minute, Rochdale took the lead with their first real chance of the game. Liam Kelly's ball into the box fell perfectly at the feet of Josh Andrews at the back post, and he steered his first-time volley superbly into the bottom right-hand corner.
The home side responded well to going behind and in a fast-flowing move nearly levelled within five minutes. Rodrigues cut inside from the left-wing and unleashed a right-footed effort that crashed into the underside of the crossbar before being cleared away. Kairo Mitchell's header a couple of minutes later sailed over the bar.
Goalscorer in the original tie, a 1-1 draw at the Crown Oil Arena, Corey O'Keeffe had a golden chance to double Rochdale's advantage just after the half-hour mark. Aaron Morley's excellent ball through to the overlapping right wing-back left him one-on-one with County 'keeper Anthony Patterson, but his chipped effort was just wide of the left upright.
The home side had opportunities from free-kicks in dangerous positions early in the second half, though neither Wootton's header nor Rodrigues' curling effort could find the target. Alex Newby forced a save from Patterson after he had the ball laid off to him by Andrews.
As they were in the original tie, Notts County were level just after the hour mark. Some good work on the left wing from substitute Cal Roberts allowed Adam Chicksen to curl a cross towards the back post where Aidy White, under pressure from Aaron Nemane, could only see the ball ricochet into the back of his own net. White and Andrews were taken off for Matt Done and Stephen Dooley.
Jay Lynch was called into action as Notts County looked to find a winner, roared on by the home crowd. Roberts once again caused problems on the left-hand side, and he fizzed a ball into the box towards Matt Palmer whose fierce volley was very well held by Lynch, especially with Wootton in prime position to bundle in a potential rebound.
Alex Newby had another effort, this one off-target, before he and Aaron Morley were replaced by Abraham Odoh and George Broadbent. With 5 minutes of the ninety remaining, it was Dale asking the questions with Patterson forced into two saves. Two substitutes combined with Broadbent's aerial ball picking out the incoming Done whose forceful header was well kept out by a strong left hand. County failed to clear and the ball was sent back in by Kelly, and Jake Beesley's header was on target but held by the Patterson.
But Beesley's moment would soon come as Dale found a winner in the 90th minute. Notts County failed to clear their lines from a lofted ball forward, and Abraham Odoh's neat work laid the ball off to Done, who had time to set himself before sending the delivery that landed perfectly on the head of Beesley and his glancing header snook past the diving Patterson and into the far corner.
There was still time for County to launch one last attack, and Joel Taylor's cross forced Lynch into some late action as he tipped over his cross that would have dipped under the crossbar.
After the game, Robbie Stockdale gave us his post-match thoughts
"It was really tough, a really difficult game. We saw in the first tie at our place that they're a very good team. They have a way of playing and they made it very difficult for us, but I thought we were excellent in the first half. It was almost exactly what I wanted from us as the away team. We changed our tactics in terms of setting up a press in the mid part of the pitch, and from the goalkeeper's kicks we thought we could step on and we nearly got a couple of opportunities from that.
"We limited them to little - a long shot that hit the bar. Jay's saying he saved it but I'm not sure he did, but we'll give him it. Then he made a really good save down at his near post, but, apart from that, coming away from home, we didn't really feel threatened and we created some really good opportunities on the break. It was a good goal by Josh.
"We knew they'd come onto us in the second half and to be fair to Notts County, for 20 minutes they put us under the pump a little bit and that's where I asked my young players to try and step up and accept the challenge and, on the whole, I think they did. It's obviously great to get a late winner again. Since I've been here, we've been on the receiving end of them and everybody tells me that's the Rochdale way and all the rest of it, but we've scored two goals in two games late on to get a draw and a win - let's make that the Rochdale way."
Rochdale will now take on Plymouth Argyle – the highest-ranked team in the competition at this stage- in a game which will be televised by ITV, on Sunday 5th December (12:15pm kick-off).
"For what our club has been through in the past three or four months, to have a game on TV, against good opposition, it's something we can go into with a lot of excitement. Plymouth is an extremely difficult game, they're flying in League One, but let's try and celebrate this result and look at the league results before we start worrying about Plymouth."
Notts County (3-5-2): Patterson, Brindley, Rawlinson, Chicksen, Nemane (Kelly-Evans 75'), Vincent (Francis 89'), Palmer, Rodrigues, Taylor, Mitchell (Roberts 56'), Wootton
Rochdale (3-4-3): Lynch, Taylor, O'Connell, Dorsett, O'Keeffe, Morley (Broadbent 81'), Kelly, White (Done 67'), Newby (Odoh 81'), Andrews (Dooley 67'), Beesley
Referee: James Bell
Attendance: 4,416