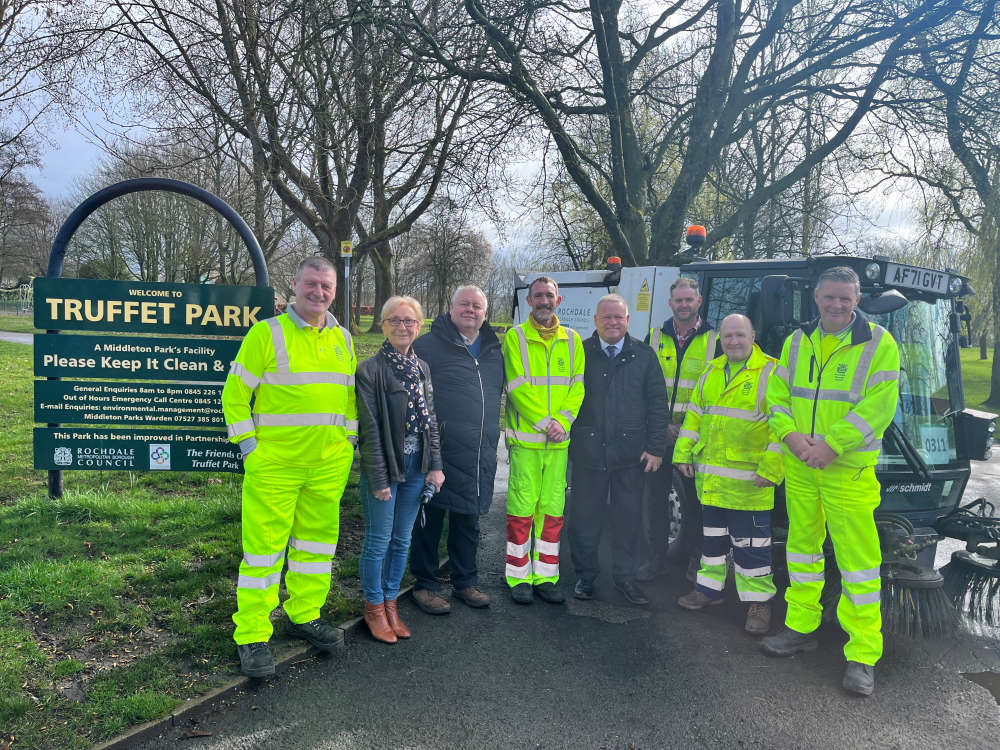 Rochdale Borough Council's Langley cleaning and grounds maintenance team. Pictured with the council's leader, Cllr Neil Emmott with Cllr Pat Dale and Cllr Phil Burke.
Rochdale Borough Council's environmental management service will now manage street cleaning and grounds maintenance in Langley, Middleton, after a decision by councillors to bring the service back in-house.
Maintenance will return to the council from 1 April when the current provider, Greenfinger's contract ends at the end of March.
The move will give the council more control and flexibility over how it delivers this vital service to the residents of Langley, which will include street cleaning, highway weed spraying and weed control, grass cutting, shrub maintenance, graffiti removal, road sweeping, litter picking and emptying waste bins regularly.
Councillor Liam O'Rourke, the council's cabinet member for climate change and environment, said: "The move will give the council's environmental management service control and flexibility over how it delivers a vital cleaning and grounds maintenance service to the residents of Langley.
"Moving the maintenance back in-house is about ensuring a high quality, first-class service - delivering residents priorities, ensuring value for money and the ability to better tailor and plan where additional work is needed."
The change follows a similar move that saw a number of highway services brought back under council control in March 2022. Now more than 96 per cent of pothole repairs are carried out within 20 working days of being reported, up from 78.25 per cent between March 2021 and March 2022. Investment in new equipment has also been increased.
Councillor Neil Emmott, leader of Rochdale Borough Council, added: "Our teams are dedicated to keeping our borough looking its best and maintained for our residents to be proud of where they live.
"The decision to bring the maintenance for Langley back in-house will ensure we can offer a much more efficient, high quality and proactive service in line with the rest of the borough and fits within wider plans and proposals for the regeneration of Middleton."