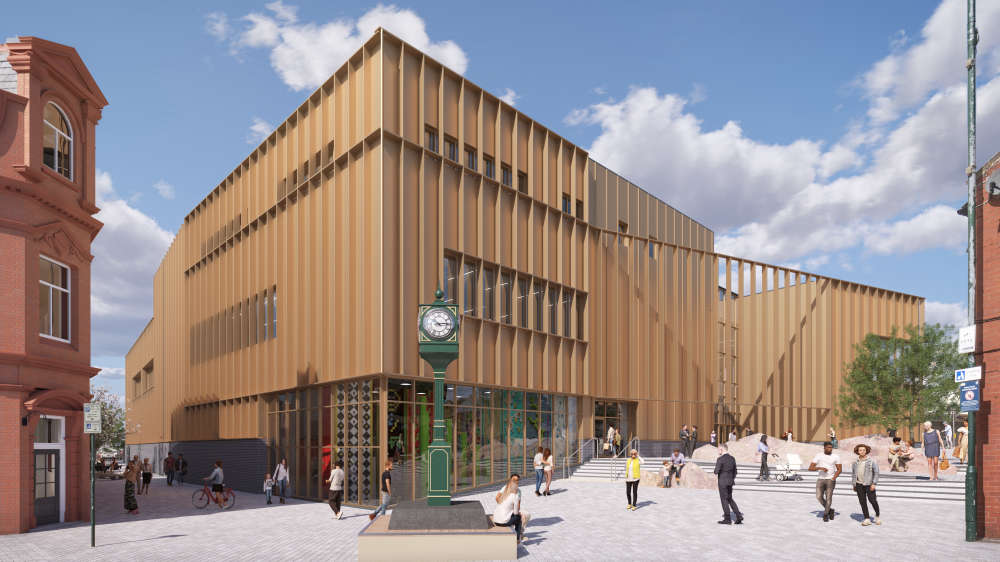 Credit: Bury Council
Detailed images of the plans to regenerate Radcliffe town centre have been revealed and are being sent to every household in Radcliffe.
Residents are urged to read the first edition of Investing in Radcliffe News, which has all the latest information about the multi-million pound transformation of the town centre.
The plans outline an array of different points, including the new civic hub which will include a new leisure centre, library, community space and support for health and wellbeing. Construction of this site is expected to start later this year and be complete in Summer 2024.
Plans are also in place for the existing market to be refurbished with shops and cafes on the ground floor with office space available on the first & second floor.
Radcliffe Market will remain open for the duration of the refurbishment works.
The projects will follow the BREEAM 'excellent' national standard for environmental performance, with the new civic hub being net zero, with any carbon emissions cancelled out by green technology and operational offsetting.
Solar panels will be installed at the Civic Hub and at Market Chambers, and the Piazza bandstand will have a 'green' roof.
State-of-the-art, airtight building fabric will be used throughout, and all buildings and public spaces will have low-energy lighting. Heat recovery techniques will be used to heat the swimming pool areas.
Councillor Eamonn O'Brien, leader of Bury Council, said: "This is just the news that Radcliffe residents have been waiting for – details of what's coming, and when it's coming.
"Yes, Radcliffe has had its challenges over the years, and some disappointments. But, as the town reaches a turning point, residents can be sure that change for the better is coming soon.
"Unprecedented sums of money are being invested in Radcliffe to bring about major physical improvements, create new facilities, and make the right environment for communities to prosper, renew pride in their town and live their best lives.
"As Radcliffe's regeneration programme gets under way, people across the town can genuinely look forward to a brighter future.
"With a brand-new school, plus modern town centre facilities for leisure, plus a new library and wellbeing, learning and cultural opportunities, Radcliffe is most definitely on the up."
Residents have the opportunity to discuss the plans with the council's leisure, library and regeneration teams over the next few weeks at:
Radcliffe Library:
Tuesday 16th August - 9.30am to 12.30pm
Thursday 18th August - 4pm to 7pm
Radcliffe Leisure Centre
Tuesday 23th August - 9.30am to 12:30pm
Thursday 25th August - 3pm to 7pm
Radcliffe Market:
Saturday 10 September - 10am to 12.30pm
An online survey will also be available to complete from Monday 15th August.