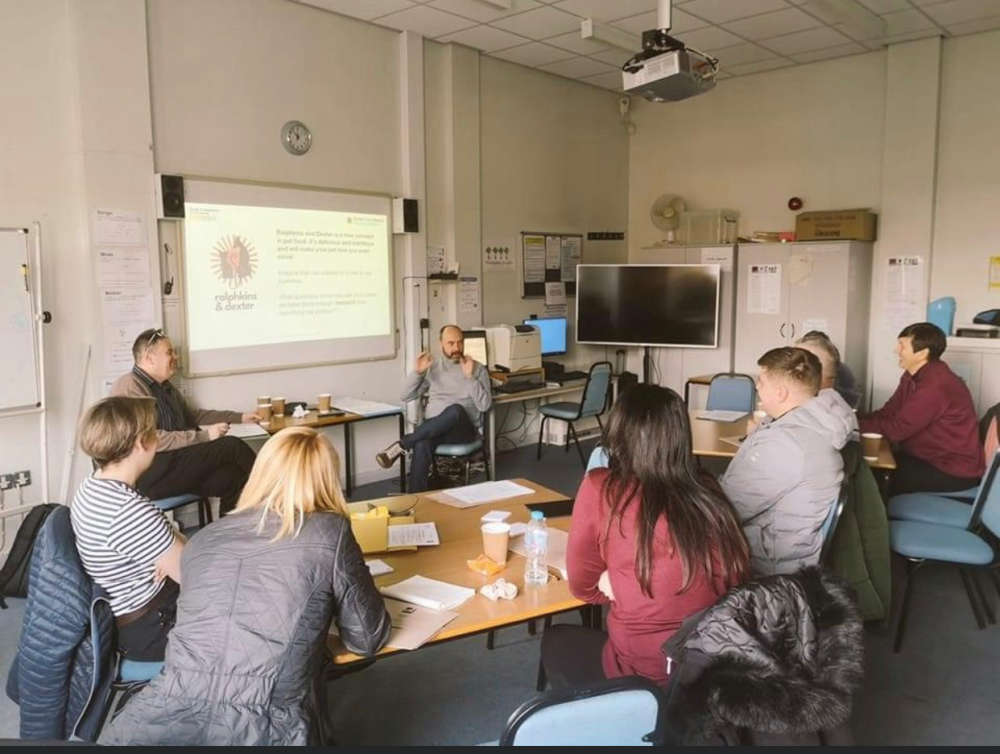 The Build a Business programme has reached over 140 individuals at the various workshops and 1-2-1 support sessions over the last couple of years.
The workshops hosted by Bury Libraries are a part of 'Build a Business in GM Libraries' scheme with libraries across Greater Manchester hosting workshops.
Here are just a couple of our success stories:
With You HR:
'WITH YOU HR is an expert boutique HR consultancy based in Greater Manchester. We offer a bespoke service for those businesses that are just starting out on their journey or are starting to employ people for the first time. We operate in a way that we're WITH YOU for every step of the way and all our packages are flexible to suit your needs.'
Michelle came to Build a Business through Library advertising, she wanted help with how to research her market and find the niche for her business and in the future scalability. Michelle wanted to have all the knowledge to ensure she would create a specialised HR with a bespoke consultancy approach. On her journey Michelle attended the workshops, used the BIPC (Business and Intellectual Property Centre) online and attended networking sessions & showcased her business at the Christmas showcase event with the BIPC.
Michelle said "I joined Build a Business having started a company the month before but not knowing anything about how to set up, intellectual property, market research, accounting etc.
I came across the session on Eventbrite and it was free so I just thought I had nothing to lose! In fact, I had everything to gain. Straightway I was contacted and made to feel valued as I spoke about my aspirations.
I attended three sessions at Bury Library that covered exactly what I would have wanted to know in the vital first few weeks. I heard all about what was available and accessible through the library from resources and contacts to help me on my journey.
I have tapped into everything including accessing market data to meeting with lawyers for free advice. In addition, I have been invited to coffee mornings and to showcase my business.
While it's a 3-day course, I have also had continued support and contact throughout from the BAB team and I can't thank them enough!"
Bellisima camping
'At Bellisima Camping we are obsessive campers... home educating mums (so we have time to camp - a lot) ... travelling the country with a herd of small children... pitching tents whilst juggling children!
This camping passion and need for ease drove us to love bell tents. By far the easiest tent to erect and undoubtedly the most beautiful.
We create lightweight, beautifully patterned bell tents for the world to enjoy! We want every person or family to own a beautiful, patterned bell tent.'
They came to Build a Business through hearing about the project via a friend, throughout their journey they have attended all workshops, received 1-2-1 support through the programme and the BIPC and attended the summer showcase event to showcase their design.
Bellisima Camping said "Having already set up Bellisima Camping Ltd, the Build a Business project helped us to fill the gaps in our requirements and increased our confidence in marketing growing our business.
The training made us aware of the very useful resources we have available in Manchester Library and how to utilise them. Following the training, we were also able to take the necessary steps confidently to protect the Bellisima logo and identity.
In addition, we have quite a few 'coaching' businesses that are platforming on social media to test the market – they have had all the support from the programme and are attending networking mornings. We have a fabulous caterer specialising in clean eating 'Poke bowls', an upholsterer, a digital card maker, a police car/media hire company and many others coming through the programme that without the support from the BIPC (Business and Intellectual Property Centre) and the Build a Business programme, would not have had all the knowledge and confidence accessible to make this leap. Statistics show that those businesses who haven't had the support of the BIPC 4/10 fail after 3 years compared to 1/10 for those that have had the support!"
Councillor Eamonn O'Brien, Leader of Bury Council, said, "It is always great to hear success stories from Bury businesses taking advantage of the great support available. We look forward to seeing more local businesses thrive especially with our regeneration plans, we want to continue to invest in the future economy of Bury for generations to come and enjoy."
The next set of workshops will be running in March at Bury Library – link here https://www.bury.gov.uk/index.aspx?articleid=16515
For further details about the programme or to book a 1-2-1 with your local SME champion, contact Claire on 0161 253 5846