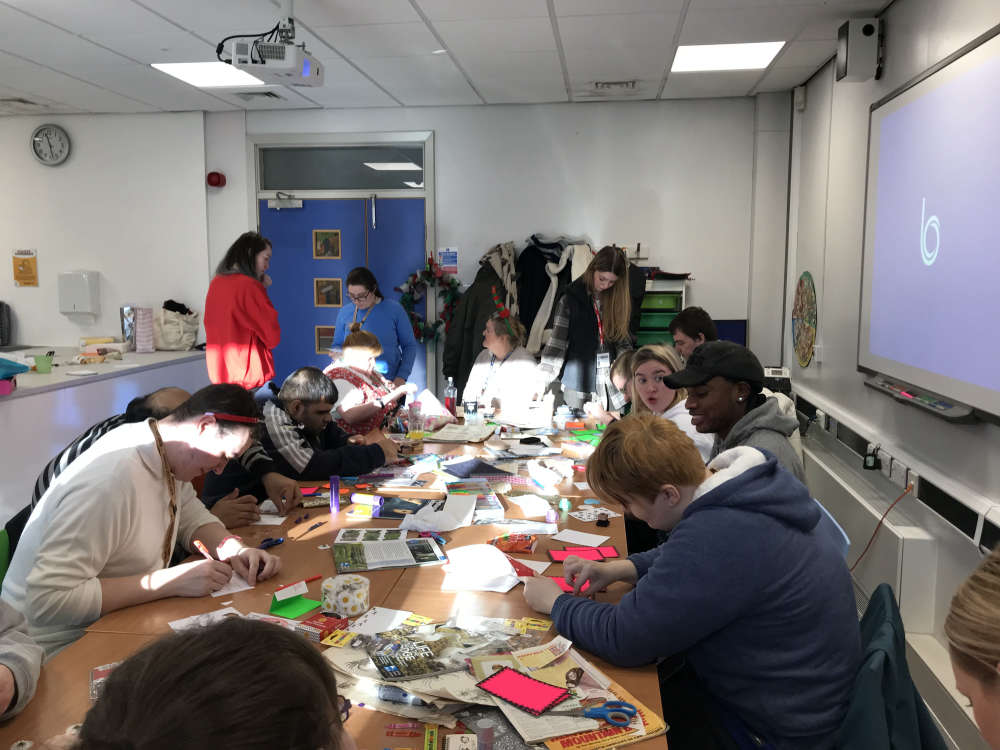 Climate campaigners from across Bury are coming together to offer residents the opportunity to get involved and share their ideas on how to reduce the risk of climate change in the region.
The thinking behind the campaigns is to drive engagement from unheard voices from across Bury about climate action.
There are three separate campaigns taking place next week that offer fun, easy ways for people of all ages to show and share how they feel Bury can get better at looking after the planet.
On the 19th January former Bury Grammar School student, now an art technician at Bury College, Hannah Warren, is holding a 'Make Bury Better' art workshop at cafe and record store Wax & Beans Cafe, where people can involved in designing badges and postcards and share ideas. Attendees will be able to enjoy the artwork from previous workshops held at Derby High School, Bury College, Bury Art Museum, and the Mill Gate Shopping Centre. During which people created over 50 postcards with messages about the changes that they would like to see across Bury, including more green and open spaces and why we need to care about making a change. Warren who recently graduated from Manchester Art School, has created an art installation using the postcards at the Bury Art Museum which will be unveiled at the final workshop from 7-9pm.
Joanne Hindle, the founder of Hindles School of Excellence, has been working with students from Bury College, Hindles School and St Stephen's Church of England Primary School on her campaign 'Make Bury Buses Better' to find out what young people think about Bury's bus services. The findings from the numerous workshops have been brought together into a petition which will be launched on the 19th January. Young people will be out with petitions to sign in and around Bury town centre between 10.30 am -12.30 pm which will be presented to the council and TfGM. It is hoped that the outcome will be further investment into improving the local bus service.
A large billboard promoting the campaign and calling for residents to come along and share thoughts and recommendations will be in place near Moorgate Retail Park. Suggestions from some of the young people include introducing safety officers to buses, being able to book a seat, having seatbelts and extended hours. It's hoped the billboard, the petition and the artwork will persuade bus companies and the council to improve the bus services locally to make them safer and more appealing to younger generations.
Taking place on the 20th January Vicki Jones a teacher at St Luke's Primary School and Sammy Deas founder of The Sunnywood Project outdoor education and events provider, are encouraging parents to either walk their children to school or park their car in Market Street Car Park and walk the short distance to school.
St Luke's Primary School had pollution trackers fitted to the outside of the school building earlier this month, provided by Bury County Council. The idea of the campaign is to compare the levels of pollution before the 'Walk to School Day' and on the day, to see the difference caused by the school run.
During the winter term, pupils from St Luke's Primary School have been writing letters to local businesses about the difficulties, they face arriving at school by car and surveying how pupils travel to and from school. The children have created badges and artwork around pollution, congestion, and the importance of walking instead of just automatically jumping in the car
Katie Douglas, project manager for the campaigns said "The passion and ideas that the three campaigns have pulled together is a testament to the dedication and hard work of Hannah, Joanna, Sammy and Vicki. The creative ideas and unique suggestions that are being shared by the various groups of Bury residents show the real concerns about climate change and the drive for change from people whose voices aren't usually heard or associated with environmental issues. We're hoping there will be more campaigns in 2023 to keep the conversations flowing."
To find out more about visit www.hindlesschoolofexcellence.co.uk/competition-imagine-better-buses-in-bury.html @BetterBury