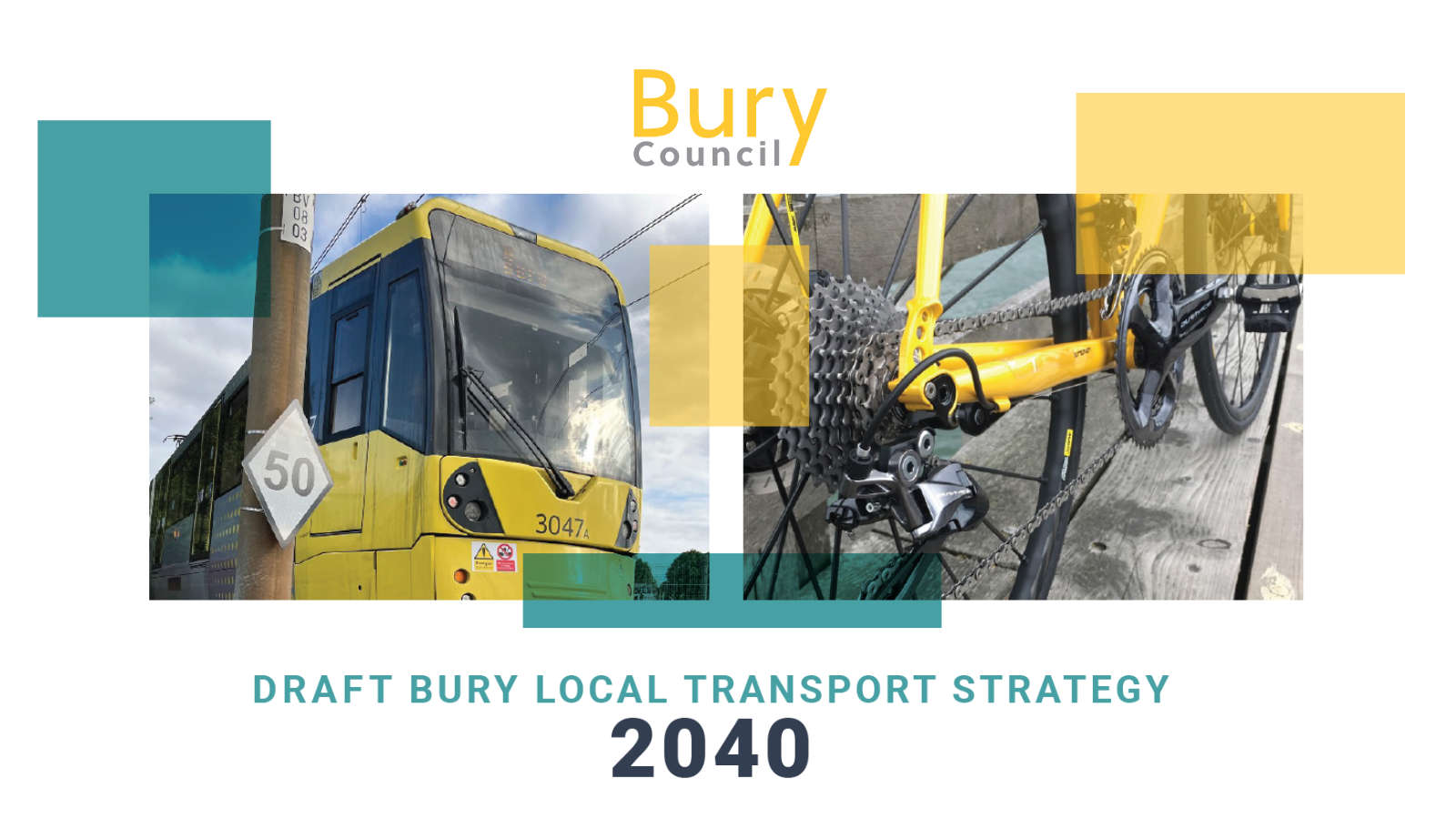 Bury Council has launched a public consultation on its Local Transport Strategy which will set out a plan for transport investment in Bury for the next 20 years and beyond.
It will cover all modes of travel in the borough, and be aligned with the aspirations of the Greater Manchester 2040 Transport Strategy (GM2040), and will be used to help secure investment for transport in Bury.
Councillor Eamonn O'Brien, leader of Bury Council, said: "If we are to realise our Let's Do It vision and our regeneration plans, we need a state-of-the-art transport system that is effective and affordable. We need our transport network to unlock new sites for development, to promote health and well-being through active travel and to help meet our commitment to having fossil-fuel free travel by 2038."
Aims of the Local Transport Strategy:
Helps to support sustainable economic growth and regeneration – including the regeneration of our town centres and the Atom Valley Mayoral Development Zone. All our residents must benefit from our growth plans.
Improves connectivity across the borough and beyond – ensuring that those that do not have access to private cars are able to access reliable and affordable transport to get to work, leisure and education.
Helps reduce our carbon emissions, with the reduction in private car usage being a major contributor to this.
Encourages and facilitates healthy and active lifestyles – to improve the health and wellbeing of our residents.
Continues to improve the maintenance and management of the existing highway network.
Improves safety across the whole of the network on roads and public transport alike.
For Metrolink, this includes a redeveloped interchange in Bury town centre, along with proposals to ensure that existing stops on the Bury line are improved. There is also a new stop and travel hub/park and ride proposed at Elton Reservoir.
Across Greater Manchester, bus franchising is being rolled out. By taking control of buses we aim to provide more high frequency bus routes, more reliable services and cheaper fares. To achieve this, we will explore how we prioritise bus movement across the borough.
The strategy also proposes to create a network of high-quality walking, wheeling and cycling routes to promote the use of active travel.
Congestion - while the strategy seeks to reduce the number of journeys made by cars, it also seeks to provide more capacity and improve safety on the highway network, including new roads and junction improvements where they are needed to support new development.
These objectives are supported by a series of investment priorities for different modes of transport that set out the types of interventions needed to address local transport issues, problems, and challenges.
Cllr O'Brien added: "This strategy sets out a range of exciting and complementary measures to help deliver a modern transport network that everyone benefits from. While we have secured funding to start the implementation of the proposals, this cannot be achieved overnight.
"However, to secure the necessary funding to achieve the overall ambition, we need to show that we have a long-term commitment to sustainable movement across our borough."
How to take part in the consultation
The consultation will run from Friday 24 March to 30 June 2023. Throughout this time, you can provide comments: