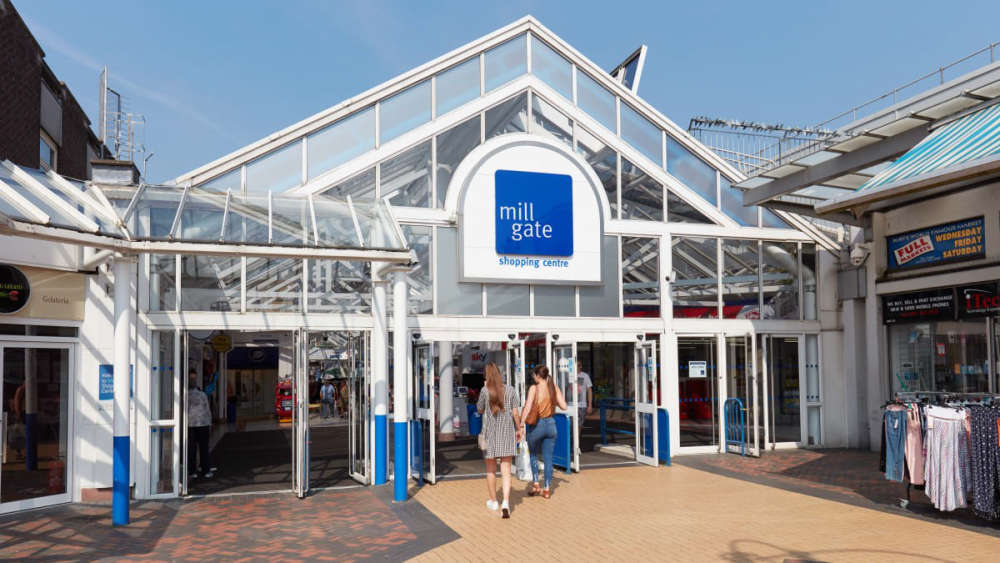 Bury Council is set to buy the Mill Gate shopping centre from its private owners to help drive forward massive regeneration of the town centre.
The move is seen as a 'once in a generation' chance to create new housing, employment, retail and hospitality opportunities, along with new health and education facilities.
The 15-acre site is currently owned by InfraRed Capital/HSBC, and the council is exploring setting up a Joint Venture partnership with developers Bruntwood to deliver the proposed project.
The news comes just one week after the council won £20 million from the Government's Levelling Up Fund to build a new flexi-hall on Bury Market and improve the wider area. A further £45 million is expected to be received for a new transport interchange, and these plans aim to complement all these initiatives, complement The Rock development and 'future proof' the town centre.
The proposals were presented to the council's cabinet last night (Wednesday 19 Nov).
Councillor Eamonn O'Brien, leader of the council, said: "This is our 'three Rs' policy - Response, Recovery and Regeneration - in action, as we build back from Covid and create the Bury of the future.
" Local jobs, businesses, public services and the very quality of people's lives depend on taking the initiative, with all partners and agencies working together to deliver prosperity for all.
"These are huge proposals, but an opportunity that we cannot miss."
The report to cabinet says that the health of the high street is at tipping point. Economic trends show a significant decline in demand for high street shopping, with rising vacancy rates which create a cycle of decline that is very difficult to reverse.
The town centre has historically attracted significant investment such as the private sector-led development on The Rock; however, because of local and wider trends, a number of major challenges need to be addressed.
These are:
• Changing patterns of retail. Bury's economy relies more on retail than elsewhere, with 12% of jobs in retail compared to 9% nationally. Online shopping and other challenges such as Covid are expected to hasten the decline of the high street.
• Lack of night-time economy. While Bury attracts many visitors during the day, there is a shortage of cultural and leisure venues to sustain an active night-time economy. Local employment in the accommodation, food, arts and entertainment sectors is substantially lower than GM and national levels.
• Market town decline. While Bury Market is a vital element of the town centre, investment is needed to ensure it does not fall into decline.
• Long-term financial sustainability. The area around Mill Gate/Bury Market needs improvement, and the fact that the Mill Gate is closed and locked in the evening is detrimental to attracting visitors and their spending power.
Cllr O'Brien added: "There is a compelling case for the council to step in and manage the transition from a retail-led centre to one with mixed food and drink, family leisure, visitor attractions, culture, and street markets.
"This can be achieved by attracting investment into leisure activities that complement existing attractions in the town centre, diversifying commercial uses, taking advantage of new demand for flexible office space. Demand for these facilities will be boosted by potentially hundreds of new homes, which will be a mixture of house types to match demand across Bury.
"There is also a 'once in a lifetime' opportunity for the council to work collaboratively with public sector bodies and potentially local education partners to create an inclusive, accessible town centre facilities that directly benefit the people of Bury."
Cllr O'Brien said that the whole borough stood to benefit from the council's ambitions.
"Our plans to regenerate the heart of Radcliffe are well under way, following our successful bid for £20 million to build a multi-purpose business and leisure hub there. We recently signed an agreement to buy the Longfield Centre in Prestwich in order to drive forward improvements there, and we're about to unveil our plans for Ramsbottom and the wider Bury town centre area.
"We are determined to ensure that every part of our borough is in the best position to thrive and flourish."